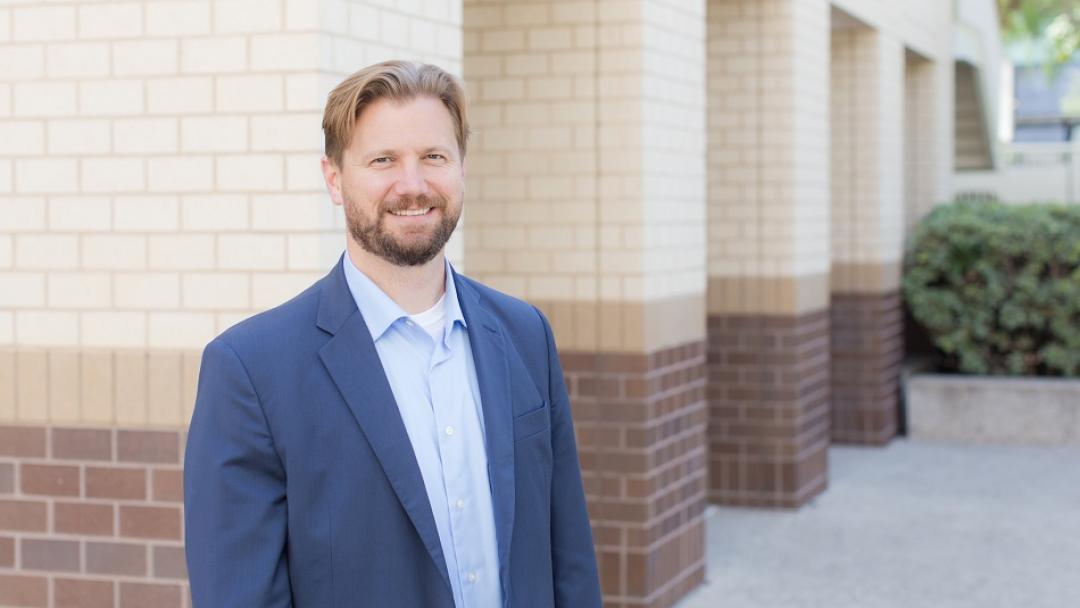 ---
Daniel Nation joins faculty, brings expertise in Alzheimer's disease, brain aging
Daniel A. Nation, an expert on Alzheimer's disease, dementia and brain aging, has joined the faculty as associate professor of psychological science.
Previously an assistant professor of psychology at USC, Nation will run a lab focused on the role of vascular cognitive impairment in Alzheimer's disease and the development of cognitive and biological markers of cerebrovascular aging.
"I'm totally focused on cardiovascular contributions to cognitive impairment, dementia and Alzheimer's disease," Nation says. "I'm looking at the blood vessels. The idea is if the blood vessels are not healthy, then the brain isn't healthy."
He is working on two studies. One involves blood pressure and blood flow to the brain in older adults at risk for dementia and the other involves stem cells in the blood that are thought to be protective of blood vessels in the brain.
"We are taking people's blood and we culture their cells in the lab over about a week and study them," Nation says. "We are finding that how those cells behave in the lab predicts how they do in terms of memory. We are also doing brain imaging and relate it back to whether they have problems with their vessels in their brain or other kinds of brain abnormalities."
His lab, the VaSC (Vascular Senesence and Cognition) Lab, already is the recipient of multi-million-dollar grants from the National Institutes of Health and the National Institute on Aging, and Nation is collaborating on research with professors across campus. He is part of the UC Irvine Institute for Memory Impairments and Neurological Disorders (UCI MIND), the university's center for aging and dementia research.
Nation also is collaborating on research with colleagues at USC, who are studying the barrier between the blood and the brain, how that's broken in Alzheimer's disease and how it affects memory impairment.
From his research over the years, Nation has found that early on in Alzheimer's disease, the vessels are stiff and resistant to blood flow. "We think that is part of the disease," he says. "Some of our early findings show that the more stem cells, called progenitor cells, you have in your blood, the better your memory is and the better your brain is functioning. We think these cells are protective."
Ultimately, Nation's goal is understanding what puts people at risk for dementia because, he says, "if we can find out what that is, then we can intervene very early."
Nation has a B.A. in philosophy and psychology from UC Santa Cruz, and an M.S. in psychology and a Ph.D. in clinical health psychology from the University of Miami. He completed a postdoctoral fellowship researching biological psychiatry and neuroscience at UC San Diego and another postdoctoral fellowship studying cognitive rehabilitation in traumatic brain injury at the VA San Diego Healthcare System.
— Story by Mimi Ko Cruz / Photo by Patricia DeVoe