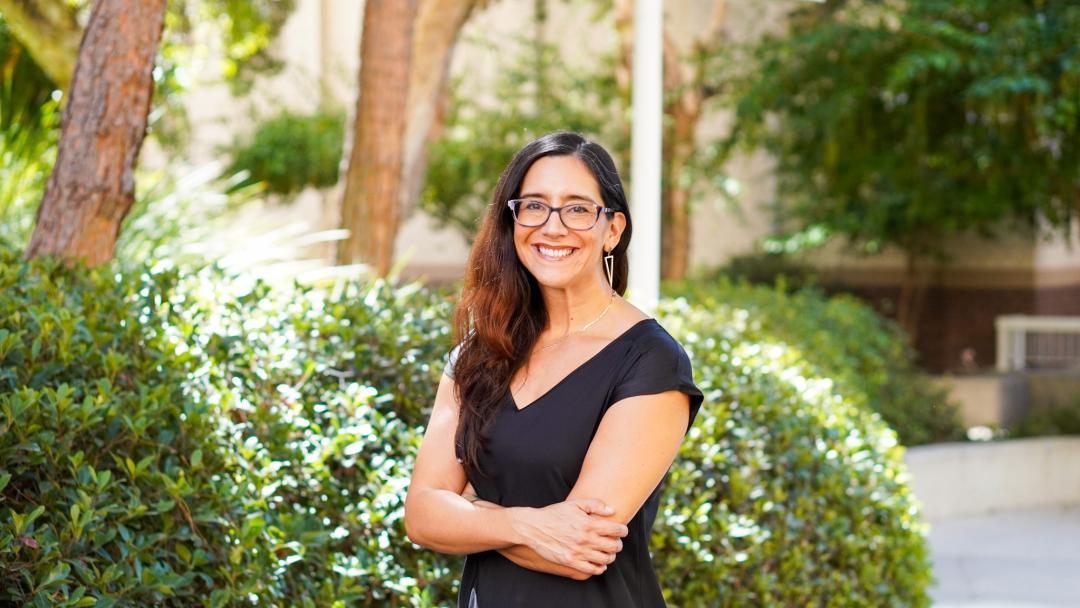 ---
Ph.D. candidate heading to UCLA
Desiree Delgadillo, who is about to receive her Ph.D. in psychological science, has been awarded the UC President's Postdoctoral Fellowship, and she will be spending the next year at UCLA conducting research on the microbiome.
The fellowship provides about $60,000 in salary and research funds, plus benefits.
Delgadillo's research focuses on the interplay between emotions, stress, close relationships, psychophysiology and the composition of the microbiome in both children and adults. Her professors and colleagues have said that her research has the potential to reveal mind-gut-microbiome connections that improve quality of life across socioeconomic status, ethnic groups and health status across the lifespan. It's a relatively untapped frontier and she aims to help create a new, integrated understanding of how microbial and psychological systems may work together for wellness.
As part of her fellowship, she will work with one of the world's leading microbiome experts, Dr. Emeran Meyer.
Delgadillo, a first-generation college student and single mother of four children, received her B.A. in psychology from Saint Martin's University in Washington in 2009 and her M.A. in social ecology in 2019. Including her fellowship, Delgadillo has been awarded nearly $300,000 in grants and honors. The following are a few of her awards since 2017:
UCI's 2023 Latino Excellence Award
Social Ecology's Outstanding Mentoring Award in 2019, 2020, 2021 and 2022
UCI's Microbiome Initiative Pilot Project Award, 2018
National Science Foundation Graduate Research Fellowship, 2018
Eugene Cota-Robles Fellowship, 2017
Competitive Edge Research Award, 2017
Provost Ph.D. Fellowship, 2017
Dean's Recruitment Fellowship, 2017
"Desi has been unwavering in pursuit of her highly specific goals, and shows a real desire to use science to improve the lives of others," Sarah Pressman, professor of psychological science and one of Delgadillo's mentors notes. "Her work tackles an important new research area: incorporating microbiome research into human psychology. Very little human work has been done on this topic, and almost none on child samples and psychological constructs beyond depression and stress. Desiree's work broadens this very narrow field by examining important questions on whether attachment and emotional styles are connected to different microbiota populations in the gut as well as to what extent parental microbiota is connected to this. This area of study has required her to develop not only expertise in psychology, but to invest huge amounts of time developing expertise in microbiology, advanced biological statistics, and more: a massive undertaking, but one that has resulted in her being one of the few psychologists capable of doing this work at a high level."
Delgadillo says her research explores connections between various types of stress and the composition of the gut microbiome.
"This work lays the foundation for future researchers to discover whether microbes in the gut can help to increase resilience to stress," she says.
Her published papers include:
Delgadillo has made more than a dozen presentations at conferences nationwide and in Canada. And, she's worked alongside Pressman in the Stress, Emotion, and Physical Health Lab as well as with Jessica Borelli, professor of psychological science, in the Health, Relationships, and Intervention Lab.
She's also served as a mentor and a teaching assistant and as a volunteer for Project Hope Alliance and several other organizations.
When she starts her postdoctoral fellowship at UCLA, one of the projects she will be working on is titled "Interactions between Positive Affect, Neural Correlates of Positive Emotion, Stress and the Gut Microbiome: Sex-Differences in Irritable Bowel Syndrome Patients and Healthy Controls."
Delgadillo credits her grandfather, Ventura Cornejo, for inspiring her to set big goals and reach for them.
"My grandfather earned his master's degree while working two jobs with a family of six to support," she says. "He is very proud and said he knew my late grandmother Lilly would be very proud as well."
— Mimi Ko Cruz