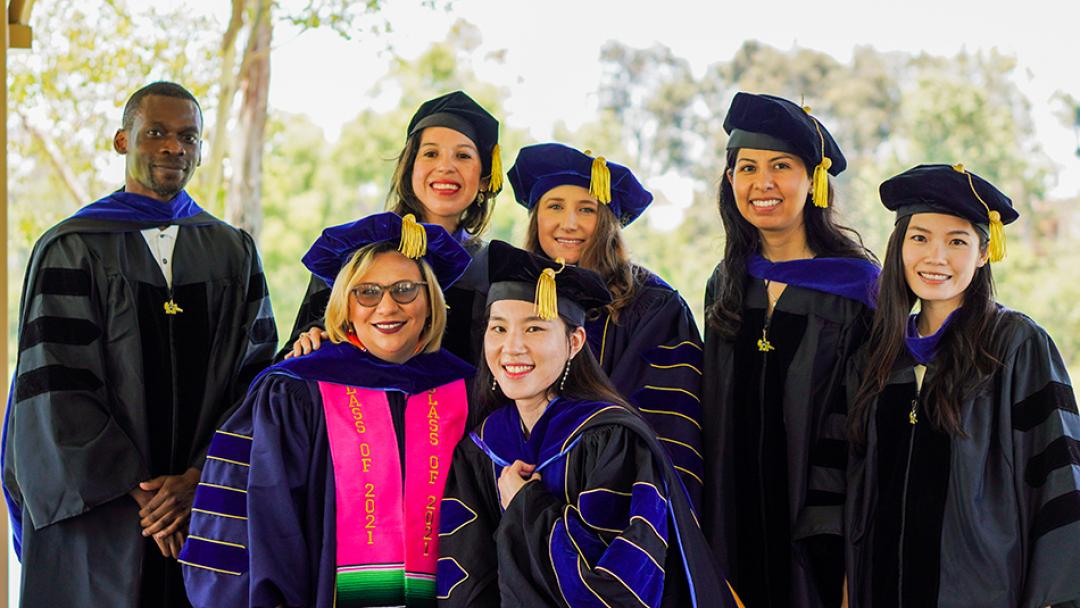 Back row, from left: Nene Osutei, Michelle E. Zuñiga, Kaitlyn S. Alvarez Noli, Edith Daisy Medina Huarita and Huixin (Echo) Zheng. Front row, from left: Deyanira Nevarez Martinez and Narae Lee. Photo by Christine Parales Porciuncula
---
Seven complete Ph.D. in urban and environmental planning and policy
By Mimi Ko Cruz
As the keynote speaker at a small hooding ceremony for herself and six peers, Edith Daisy Medina Huarita reflected on her final year as she completed her Ph.D. in urban and environmental planning and policy.
"Our doctoral journey has been unique for each one of us," Huarita said. "I'm proud that we finished our degrees in the midst of a pandemic and we did not let anything stop us. I'm grateful for UCI, the university I call my academic home which provided me with all the resources I needed to succeed. I met other great leaders on campus and found we have a powerful voice as students to make good changes within and outside UCI.
"However, our journey also showed us the dark side of our world," she added. "In comparing ourselves to those around us, we saw inequality and unfairness. The pandemic highlighted these issues and more. The year 2020 will be unforgettable because some of us lost people, opportunities, experiences and we also survived one of the most divisive political times…. Hoping for the best, putting our assumptions aside, not assuming the worst in each other can motivate us to collectively work together to achieve positive changes. … The lessons we learned in equality and the skills we now possess are valuable to our society and can be used to build a better future for our community."
Huarita, an immigrant from Bolivia who earned her bachelor's degree in conflict studies at DePauw University and her MPP from UCLA, overcame obstacles including being hearing impaired and English being her second language on her educational journey.
It wasn't easy, she noted. But, "I have been blessed with a highly intellectual and ambitious mother but like most daughters, I never wanted to become like my mom. Comically, I am like her and, despite the odds, I am still processing how I was able to complete a doctorate degree. I have cherished the moments when she gave me knowledge and wisdom from her own educational journey. Those moments, coupled with the guidance and mentorship from my advisor, Dr. Victoria Basolo, gave me the freedom to heal and grow to be the researcher I never thought I could be."
When she arrived at UCI, she said, "I was excited and ready to adopt my new school family. I learned from experience that you get what you put in or invest in. I saw how incredibly diverse my cohort is and I was thrilled they were going to be doing this Ph.D. journey with me, so I invested in them and used my coordinating skills to get them all together during our first year, mostly for birthdays. What I never thought would happen, was that every single one of them organically contributed to our lived experiences the rest of our journey by hosting gatherings, sharing their ups and downs in life, and initiating that we come together to support one another. I could not have done this Ph.D. without them. I am going to miss them all, but I am also so very proud of them."
Her fellow 2021 graduates:
Narae Lee
Degrees: B.A. in forest science from Kook Min University, M.A. in landscape architecture from Seoul National University, Ph.D. in urban and environmental planning and policy from UCI
What's next? Lee will be a postdoctoral scholar at Pennsylvania State University.
On UCI: "I could not have survived without my cohort members in this Ph.D. journey."
Deyanira Nevarez Martinez
Degrees: B.A. in political science and Latin American studies, M.S. in planning and M.S. in geographic information systems technology from University of Arizona; Ph.D. in urban and environmental planning and policy from UCI
What's next? Martinez has been hired as an assistant professor of urban and regional planning at Michigan State University.
Reflection: "After completing college as a first-gen Chicana, I never saw myself coming back to graduate school. College was the hardest thing I'd ever had to do and I felt like I barely survived it and it felt very overwhelming to think of trying to do that again. My younger sister started college the year I graduated and she was a McNair scholar. Her experiences there and what she shared with me encouraged me to think about continuing my own education in graduate school and because, apparently, I don't like to do things the 'easy way,' I started this Ph.D. with a 4-year-old and eight months pregnant! My sons are now 9 and 5!"
On UCI: "At UCI, I found a very supportive group of colleagues and mentors. Completing a Ph.D. can be very isolating and my cohort and other colleagues never let me feel like I was alone. I always had a supportive community and that meant a lot to me."
Kaitlyn S. Alvarez Noli
Degrees: B.A. in international studies from California Lutheran University, M.A. in global studies from UC Santa Barbara, Ph.D. in urban and environmental planning and policy from UCI
What's next? Noli has been hired as an assistant professor of public policy and health sciences at Northeastern University.
Reflection: "My proudest accomplishment is raising my daughter, Elizabeth, while completing my graduate degrees. I gave birth to Elizabeth during the senior year of my undergraduate studies and she was my biggest motivation to continue my educational journey. Her patience and understanding during these intense academic years (especially while being stuck at home with me during a global pandemic!) was truly astonishing. A few short months after finishing my Ph.D., I gave birth to my second daughter, Alexandra. I am beyond thrilled for what the future holds as we welcome the newest member of our family, move to Boston, and transition to the next chapter in our lives. The scholarly pursuits continue!"
On UCI: "Completing my Ph.D. at UCI has been a challenging and rewarding experience. I am indebted to many UCI students, faculty, and staff who guided and accompanied me on this transformative journey. In particular, I am grateful for my advisors, Maria G. Rendon and Martha S. Feldman, who had faith in my ability to grow as a scholar and went above and beyond to help me achieve my goal."
Nene Osutei
Degrees: B.A. in political science from University of Toronto, MPP from Arizona State University, Ph.D. in urban and environmental planning and policy from UCI
What's next? Osutei is pursuing tenure-track academic job opportunities.
Reflection: "I actually began my higher education journey in biotechnology and computer science but decided to switch gears into public policy research after working alongside many Ph.D.-trained researchers at a Toronto-based think tank as an undergraduate."
On UCI: "I felt very supported throughout my time at UCI and in the UPPP department. I was fortunate to be a part of a tightly-knit cohort that never missed an opportunity to celebrate, collaborate or commiserate whenever necessary. I also could not have asked for a better advisor."
Huixin (Echo) Zheng
Degrees: B.A. in economics from Sun Yat-sen University in China, MPP from UCLA, Ph.D. in urban and environmental planning and policy from UCI
What's next? Zheng will be a postdoctoral scholar at UCI.
Michelle E. Zuñiga
Degrees: B.A. in international and cultural studies from the University of Tampa, Master of Urban and Regional Planning from the University of Colorado, Denver; Ph.D. in urban and environmental planning and policy from UCI
What's next? Zuñiga has landed a job as assistant professor in urban and community planning at the University of North Carolina, Charlotte.
Reflection: "Never did I expect to pursue a Ph.D., but my experiences around the world travelling and working with community members on issues related to environmental justice and urban planning led me to pursue a career of research. It was particularly my involvement with an environmental justice advocacy group in one of the most contaminated sites of Denver, fighting against a freeway expansion that influenced me to pursue research on how to foster mitigation and ensure communities of color are not disproportionately impacted by environmental hazards."
On UCI: "My UCI experience would not be the same without the support of my cohort. I truly believe that I would not have been able to finish this Ph.D. without them. We supported each other from the beginning, in classes, to the very end as we came to our dissertation defenses. We have been there to cry, laugh, study, and defend together throughout these six years."
The seven graduates were among 31 who earned Ph.D.s from the School of Social Ecology this year. The Class of 2021 also included 138 who earned master's degrees and 1,331 who earned bachelor's degrees from Social Ecology.
The School took part in a virtual ceremony for all the graduates earlier in June.
To view photos from the hooding ceremony, visit Flickr.