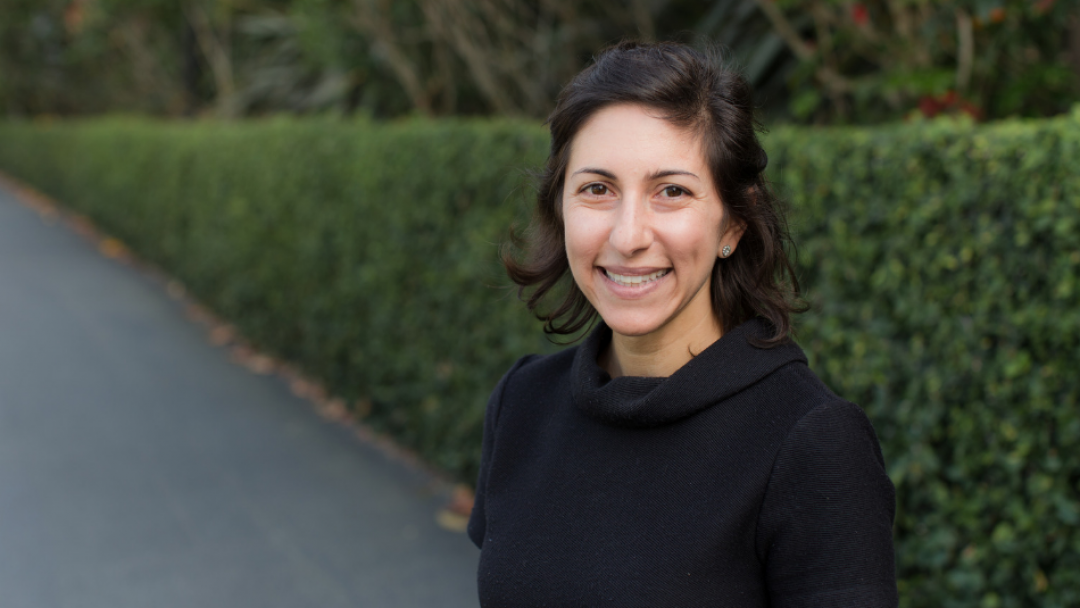 Alyson Zalta. Photo by Patricia DeVoe
---
Alyson Zalta earns early career award and lands NIH grant to research bright morning light treatment for trauma
By Mimi Ko Cruz
Armed with bright light, Alyson K. Zalta, assistant professor of psychological science, is working on combating posttraumatic stress disorder (PTSD), depression and anxiety that can result from exposure to trauma.
"Although therapies exist for traumatic stress, many individuals fail to receive treatment or remain symptomatic despite treatment," she says. "New treatments are needed for traumatic stress that target underlying mechanisms of the pathology and offer a safe and acceptable alternative."
To that end, bright morning light, which has been shown to reduce depression, anxiety and PTSD symptoms, Zalta says, has good potential as a novel non-invasive, low risk treatment. She and a colleague, Helen Burgess, a professor of psychiatry at the University of Michigan, conducted a pilot study to test the light therapy.
They found that people suffering with PTSD could benefit from bright morning light therapy, and they recently were awarded a two-year $1.5 million grant from the National Institutes of Health to expand their study.
In addition, Zalta has earned the "Award for Outstanding Contribution to Trauma Psychology by an Early Career Psychologist" from the American Psychological Association Division 56. The award recognizes psychologists in the early stages of their careers who have shown outstanding achievement or who have made outstanding contributions to the study of psychological trauma.
"I'm truly honored to have received these awards," Zalta says. "So many people are suffering from the impact of trauma. It's my sincere hope that the work I'm doing could help people to be resilient in the face of trauma and bring relief to those who are in distress."
For their NIH-funded research, Zalta and Burgess will instruct scores of participants who have experienced trauma, such as being physically or sexually assaulted, witnessing serious harm or death to others, having combat trauma or being a victim of a serious car accident, to wear a light device that resembles lensless goggles just after waking up in the morning. The goggles are outfitted with an LED light along the rim and commercially available. The specific wavelength of light used is designed to match the peak circadian photoreceptors in the eye, which is therapeutic.
In their study, Zalta and Burgess aim to understand how the treatment might work for individuals struggling after trauma.
"We know that retinal circadian photoreceptors transmit light to many different areas of the brain," Zalta explains. "However, there have been no studies that have yet explored brain changes due to morning light treatment in a clinical sample. That's what's so exciting about our study."
Zalta and Burgess are particularly interested in the amygdala, an area of the brain that is associated with emotional learning and involved in the development of distress following trauma exposure.
In their study, 66 subjects will be randomized to receive the light therapy for four weeks at three different doses: 15 minutes, 30 minutes or one hour per day. Amygdala reactivity will be assessed at three time points: at the beginning, at two weeks and at four weeks. The study is designed to determine the optimal dose of the light treatment.
If it is successful, Zalta and Burgess expect to receive additional NIH funding to conduct a second study in which 122 subjects will be randomized to bright vs. dim morning light. The project, the researchers note, could lay the foundation for developing morning bright light as a novel, safe, available and acceptable treatment for traumatic stress.