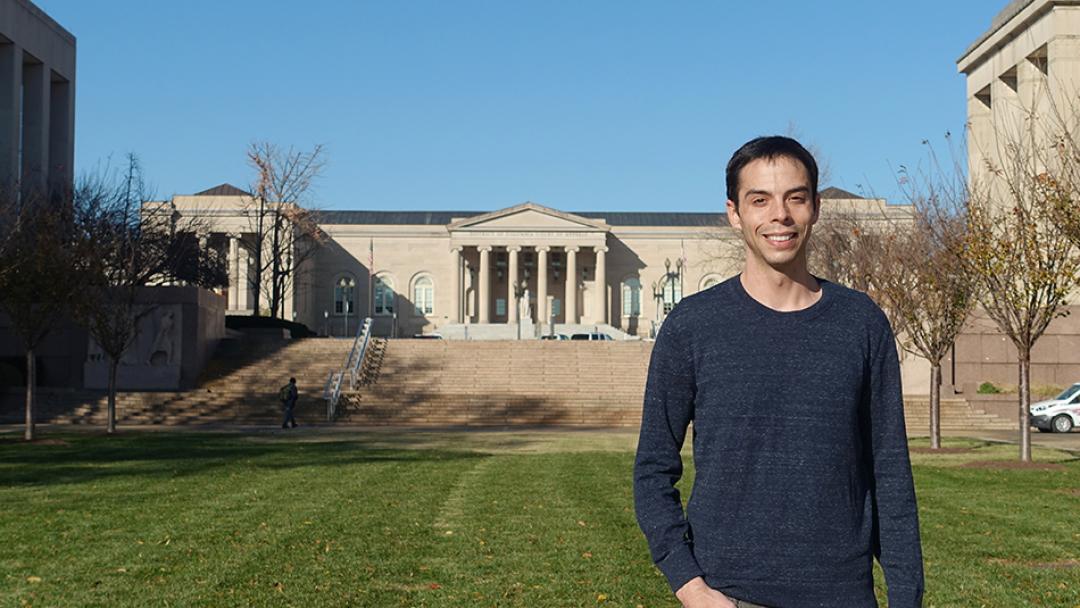 ---
First J.D./Ph.D. student in Social Ecology inspired by personal experience to study wage theft

Matthew Fritz-Mauer says he's either a pioneer or a guinea pig, depending on who you ask. He was the first student to embark on a concurrent degree program within UCI's School of Social Ecology and the School of Law.
Today, as Fritz-Mauer finalizes his dissertation on wage theft, he says both the Department of Criminology, Law and Society and the law school were extremely supportive as he paved a new path, alternating years between the two programs.
"It seemed like my dream program," he says of the opportunity to pursue both his J.D. and a Ph.D. in after majoring in criminal justice at the University of Delaware. "There are things I want to know about the world, and things I want to say about the world," explains Fritz-Mauer. "For some the law degree is better and for others the Ph.D. is better."
After completing his first year of law school and researching public defenders for his second-year project in criminology, law and society, a personal crisis led Fritz-Mauer to pivot. An employer at an Orange County farm flat out refused to pay his girlfriend, Chelsea Barker, for three weeks of work. The employer sent strident emails insisting he would not pay.
Being denied several hundred dollars caused the couple stress, but it was the injustice that completely infuriated them. Could anyone do this and simply get away with it? Fritz-Mauer was fortunate. He had access to legal expertise at UCI, his cousin was an attorney, and when their case went to trial, Barker fit the picture-perfect stereotype of an all-American girl on the witness stand: a slim green-eyed brunette with a slight Southern accent.
After 14 months of frustration, Barker, who is now married to Fritz-Mauer, won her lost wages and had her legal fees paid. In the surge of relief and triumph came a hard realization for Fritz-Mauer: their experience of recouping lost wages was the exception, not the rule.
Researchers estimate that minimum wage violations, like what Barker experienced, cost low-wage workers $15 billion per year, and the overwhelming majority of these workers aren't able to recover their wages. "Legal knowledge is really about access to power," says Fritz-Mauer. "If you have even a little bit of legal knowledge and can figure out how to access the systems upon which our society is built, you are in a better position." While Fritz-Mauer was equipped to navigate the system, most low-wage workers are not.
Raised by a social worker mother and a lawyer father in Takoma Park, Maryland, Fritz-Mauer grew up with an interest in social justice issues. But the turn of events with his girlfriend brought workers rights into sharp focus.
Fritz-Mauer started volunteering with the United Farm Workers, and coordinated the wage theft clinic at the UCI School of Law. There, he worked with Orange County day laborers who had been denied their wages. By filing mechanic's liens on the projects, Fritz-Mauer and his peers were able to get almost all of their clients paid.
Within the Department of Criminology, Law and Society, he also shifted his research to examine wage theft. "We view wage theft as an individual problem, but it has devastating effects on a person's life," says Fritz-Mauer. "I would like to share the story of working class people in this country to draw attention to the real issues they face and problems with how we've structured our society."
In 2017, Fritz-Mauer moved to Washington, D.C., to clerk for Harry T. Edwards in the US Court of Appeals for the D.C. Circuit, where he worked on a wide variety of cases involving civil, criminal, and agency law. The D.C. Circuit was the center of action -- a place where people like James Comey and Rod Rosenstein stopped by for informal Q&A sessions with the clerks.
Fritz-Mauer decided to stay in the nation's capital to complete his dissertation research because D.C. passed the most comprehensive anti-wage theft laws in the country. Interviewing about 60 workers, activists employment attorneys, Fritz-Mauer has discovered that wage theft takes many different forms, but the impact is often devastating. While some of the people he's met are owed tens of thousands of dollars, the majority of cases are about smaller hardships that take a huge toll.
"If you're living week to week, keeping everything together with a hope and a prayer, and you have $50 stolen from your paycheck, you have to navigate hard choices: pay the water bill, buy food for your family, or be late on rent," says Fritz-Mauer. "These are the stories I've heard over and over again, that wage theft creates these cascading harms."
"These stories are intolerable, and the way we've tried to deal with it as a society is completely unacceptable," he says. Fritz-Mauer says he hopes by systematically synthesizing the information, he can help push toward meaningful, impactful policy.
"A lot of people have no idea what it's like to be poor in this country," he says. "Overwhelmingly, the people I've spoken with work hard and believe in the American dream. They are not lazy, and although many lack formal education, they are not stupid. Yet they have not succeeded by America's standards."
Armed with his law degree and soon with his doctorate, Fritz-Mauer aims to bring attention to the struggles of low-wage workers and, in particular, social structures that work against them -- first as a practicing attorney and eventually as an academic.
"I'd like to push for a greater understanding of what it's like to be poor in this country," says Fritz-Mauer, "And push for policy that can actively address this injustice."
Forged through the strife of his personal experiences, Fritz-Mauer's work holds the potential to make him a true pioneer, not just for the School of Social Ecology, but for impoverished workers everywhere.