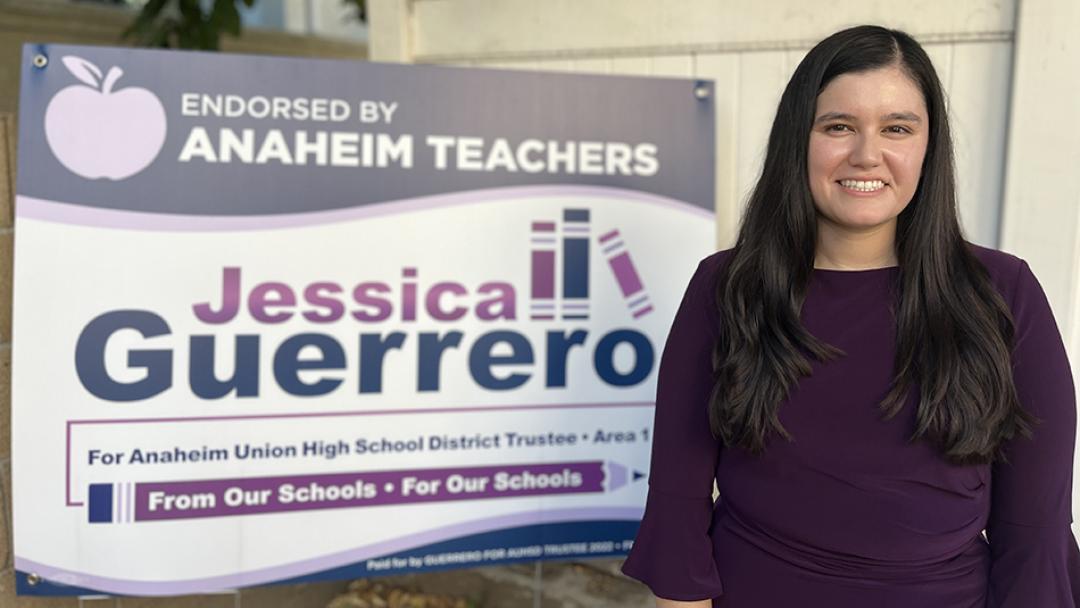 Jessica Guerrero is the first Latina and youngest person to be elected to serve on the Anaheim Union High School District Board of Education. Below photo: Guerrero and her parents at her 2020 UCI commencement.
---
Jessica Guerrero is first Latina and youngest AUHSD trustee
When Jessica Guerrero was a UCI graduate student in the Master of Public Policy program, her final project sought solutions for Orange County's need for affordable housing.
"Our group documented and analyzed permanent supportive housing developments and community perspectives to better understand NIMBY (not in my backyard) resistance," she recalls. "We offered recommendations for engaging both community members and decision makers."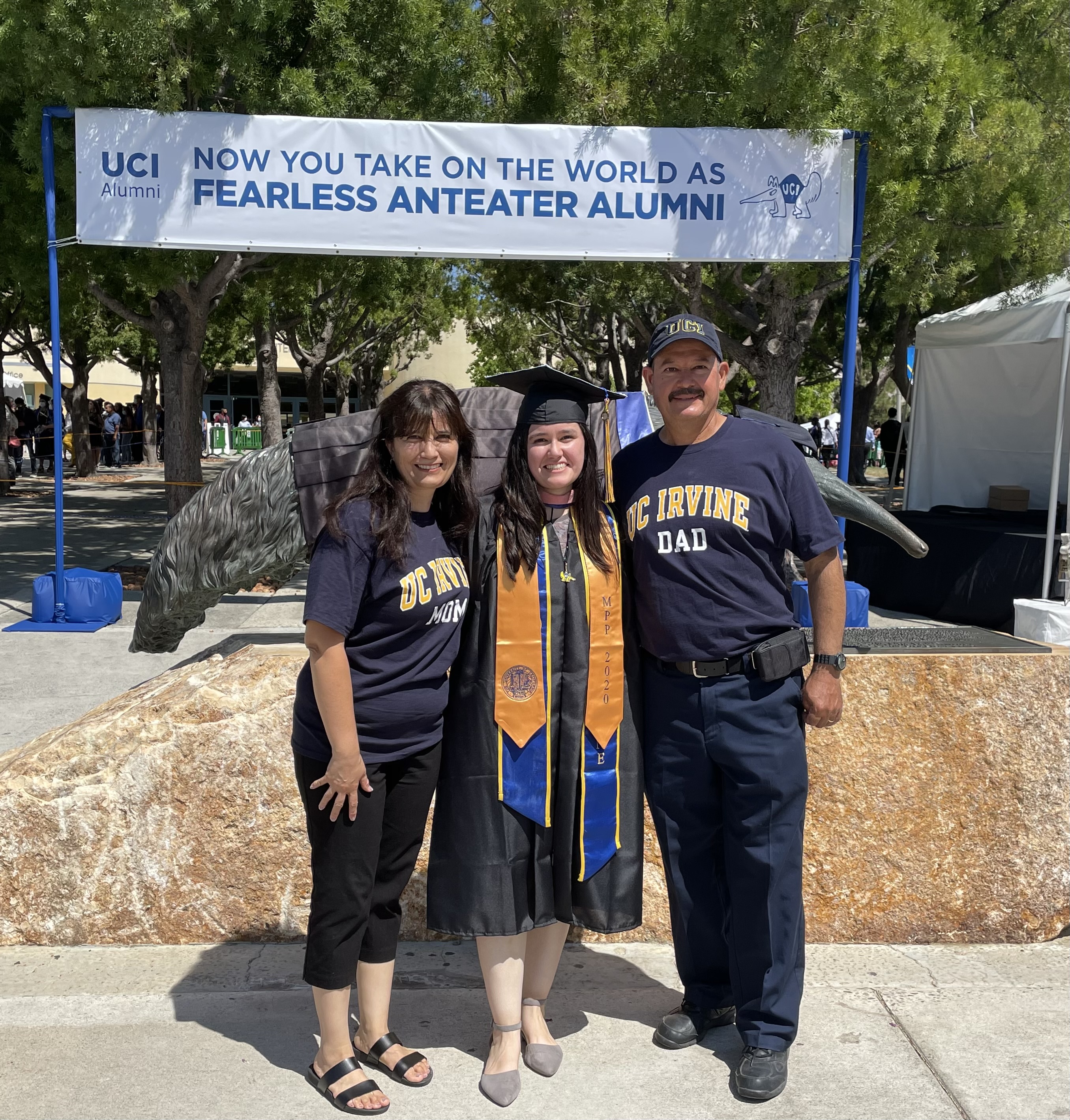 The project, showcased at the 2020 Association for Public Policy Analysis and Management Conference, taught Guerrero about effective community-government relations, a skill she uses today as the first Latina and youngest trustee ever elected to the Anaheim Union High School District (AUHSD) Board of Education.
Elected in November, the 26-year-old trustee says her priorities as a school board member include focusing on 21st-century learning, advocating for the community school model and supporting funding for state-of-the-art school facilities.
In addition, she advocates for "preparing students for life after high school, which includes whether they want to go to college or pursue a career; and working with partnerships to collaborate with community colleges and universities."
Some of the projects she supports include those that improve mental health and well-being of the district's students. "We have at least one social worker on each campus and we are making sure we continue to talk about mental health and be open to those conversations."
Guerrero, who was born and raised in Anaheim, where she attended public schools, including Sycamore Junior High School and Anaheim High School, also supports programs that help all students succeed.
"I understand the struggles of many of our students," says Guerrero, whose parents are immigrants with no college experience. "I want to give back to the community that gave me so much. As a role model, being the first Latina in this office shows students like me that they can be anything they want to be."
AUHSD's minority enrollment is 90 percent and 28 percent of its 29,183 students are economically disadvantaged, according to U.S. News and World Report.
As a daughter of immigrants and a first-generation college student, she credits programs that helped her navigate the higher education system and complete her undergraduate and graduate degrees — a B.A. in public administration from Cal State Fullerton and an MPP from UCI.
In high school, Guerrero took part in AVID, a college readiness program and GEAR UP (Gaining Early Awareness and Readiness for Undergraduate Programs), which provides underrepresented students from low-income backgrounds with services to enhance their academic success. As an undergrad, she was part of Hermanas Unidas and she was a recipient of the McNair Scholar program that pairs high-achieving students from disadvantaged backgrounds with faculty mentors to hone their research skills. At UCI, her mentors — Associate Professor María Rendón and Professor David Feldman — and her job as teaching assistant for UCI's Undeclared/Undergraduate Advising department inspired her to continue a path in public service.
"I didn't get here on my own," Guerrero says. "Being first-generation is often scary not knowing how to navigate higher education or even the professional world, but I had help from these incredible programs, from my MPP cohort and from my incredible mentors, teachers and counselors, and my family and friends were my biggest cheerleaders."
Guerrero Fun Facts
Received her MPP from UCI in 2020
"I started my undergrad at Cal State Fullerton undeclared, and years later had the opportunity to work as a teaching assistant at UCI's Undeclared/Undergraduate Advising department, mentoring other students in finding their major and passions."
Anaheim family: mom graduated from Anaheim High School and dad works for the district as an equipment operator.
Favorite color: purple
Favorite book: The House on Mango Street by Sandra Cisneros
— Mimi Ko Cruz