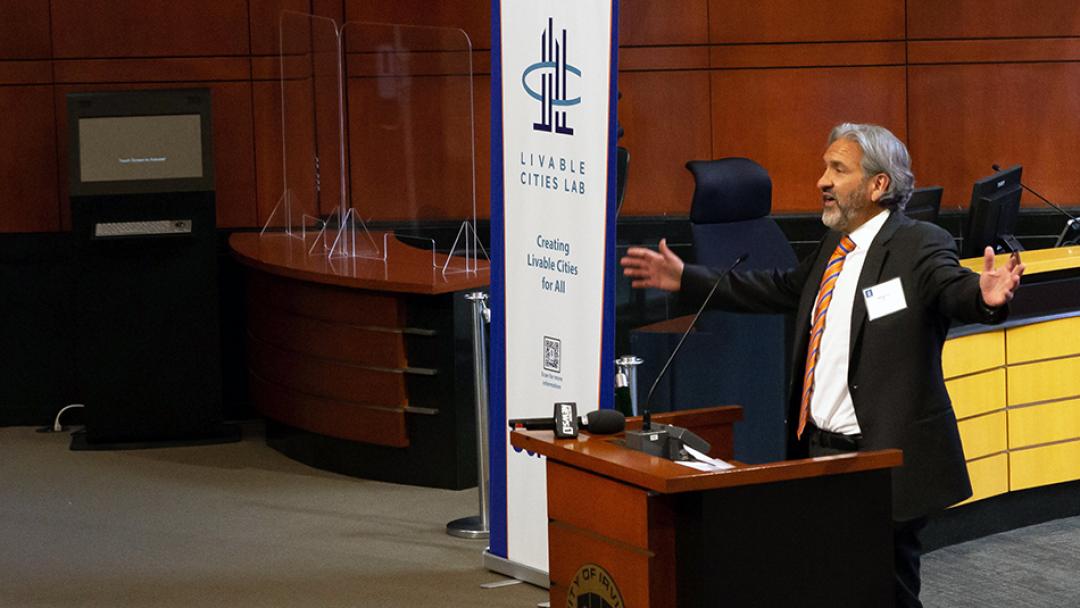 George Tita, director of the Livable Cities Lab, above, presents affordable housing study at Irvine City Hall. Other speakers included, from top (inset photos): Professor Emily Owens; Dean Jon Gould; Laura Archuleta, CEO and president of Jamboree Housing and chair of the LCL Board; and Lucy Dunn, retired president and CEO of the Orange County Business Council. Photos by Han Parker
---
LCL study finds benefits to building low-cost units in Orange County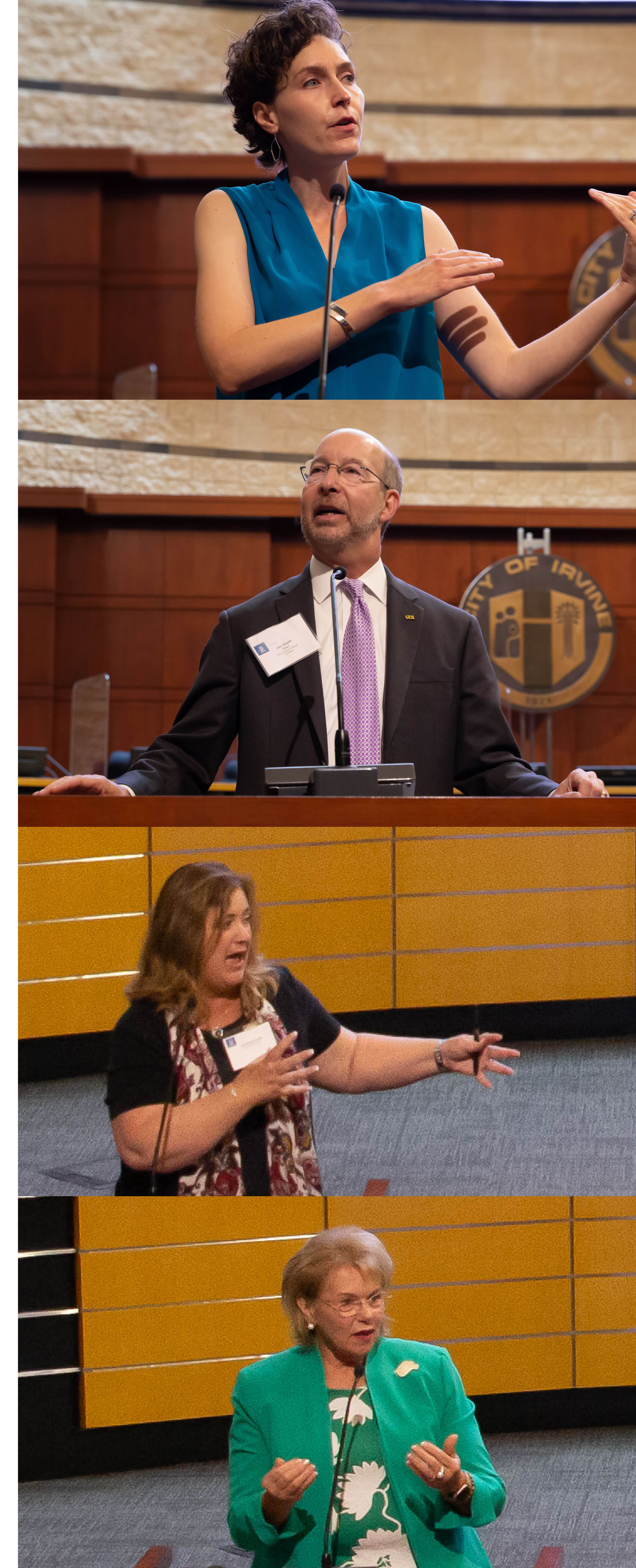 By Mimi Ko Cruz
What happens when affordable housing opens in Orange County? Crime goes down and surrounding property values go up, according to a study on the effects of affordable housing in Orange County conducted by UCI's Livable Cities Lab (LCL).
"One of the long-standing historical challenges to affordable housing in local communities is the fear by local residents that crime will go up and housing values will go down," said George Tita, LCL director and professor of criminology, law and society as well as urban planning and public policy.
The LCL study — conducted by John Hipp, professor of criminology, law and society and urban planning and public policy; Emily Owens, professor of criminology, law and society; Tita; and graduate students Clarissa Iliff and Seth Williams — found the opposite.
The researchers collected and analyzed years of data to help people separate fact from fiction and pave an informed path to housing solutions. The team hosted a public release of their groundbreaking study on June 2 at Irvine City Hall. They explained their research, which explores the real effect on home values and rates of crime before and after the placement of affordable housing in communities throughout Orange County.
"The siting of affordable housing does not negatively affect housing prices in Orange County," the researchers noted. "In fact, we see modest increases in both sales prices and price per square footage countywide, with the most pronounced impact in places categorized with higher rates of poverty."
Tita points out that the study found affordable housing added value to nearby homes by about $16,000.
This is important as cities grapple with a shortage of 65,000 housing units in Orange County, he said.
The study looked at data three years before and three years after affordable developments moved into neighborhoods, and found they reduce most types of crime, especially violent crime, such as robbery and assault.
"Prior to collecting and analyzing the data, we completed a literature review of similar studies conducted in other parts of the United States," the researchers noted. "The results from our analysis for Orange County add to what has been found elsewhere: The placement of affordable housing does not negatively impact the surrounding community, and in many ways, it enhances both local property values and increases public safety."
The city with the most affordable housing units in the entire county — Irvine — is the safest in the nation, based on FBI Uniform Crime Reporting statistics.
"It just goes to prove that you can have a lot of affordable housing, and be voted the safest city in America for 16 years running," Tita said.
Jon Gould, dean of the School of Social Ecology, which houses the LCL, called the study important.
"We are all about an integrative approach to solving social problems," he said. "Our school is about engaging in the community with partners to try to solve social problems, and the Livable Cities Lab is about taking top-tier academic research and applying it to real-world issues. … Affordable housing is the issue I hear about over and over again. Housing and public safety are absolutely essential to maintaining a healthy and sustainable community. So, the Livable Cities Lab is exactly the place to go in Orange County to find that academic partner to address these kinds of sticky problems that face urban life."
The LCL was created last year to leverage the academic expertise of UCI faculty and students in order to engage policy makers and stakeholders around three important issues: providing dignified housing for all, creating and maintaining safe communities; and promoting social enterprise as a way for faculty and students to have their research and ideas contribute to the greater good.
The Orange County affordable housing impact study was the LCL's first. More research on housing and public safety is being conducted.
LCL Board member Lucy Dunn, retired president and CEO of the Orange County Business Council, called it a "powerful tool that we all can use as we continue to advocate for doing the right thing."
Watch the full presentation on YouTube:
---
Related:
ABC-7 Eyewitness News: New UC Irvine study finds affordable housing increases property value and lowers crime
Orange County Register: Affordable homes don't increase crime or dent Orange County property values, says UCI study
Dana Point Times: UCI Study Shows No link Between Affordable Housing And Crime Increase, Property Value Reduction