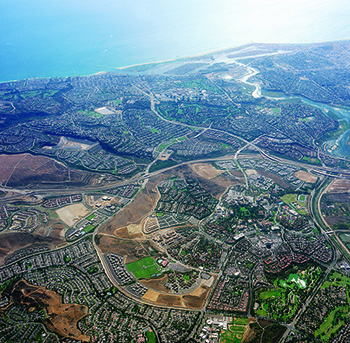 The Ph.D. program in Social Ecology allows students to develop a tailored course of graduate study that draws upon the knowledge of several traditional academic disciplines. This is a small distinguished program intended for genuinely interdisciplinary doctoral students. The emphases of this training program are in keeping with the academic mission of the School, namely, its emphases on an ecological approach to research and policy, an interdisciplinary approach to research and community intervention, and the application of theory and research to community problem solving.
Students are encouraged to integrate the diverse theoretical and methodological insights of several disciplines in order to analyze important social and environmental problems from a perspective of breadth as well as depth. In doing so, students gain familiarity with the classic and contemporary literature in social ecology and with the application of the ecological paradigm, as it has evolved in the natural and behavioral sciences. This program is ideally suited for independent students who wish to develop a unique interdepartmental program of study in consultation with faculty from several departments.
Program Benefits
Five years of financial support
Research Assistantships
Teaching Assistantships
Fellowships and Awards
On-campus housing
Each incoming student takes Seminar in Social Ecology (Social Ecology 200), Research Methods (Social Ecology 201), two approved graduate-level statistics, one approved research methods course, and six elective courses, chosen in consultation with the faculty advisor. The normative time for completion of the Ph.D. is five years, and the maximum time permitted is seven years.
Program Outcomes
Integrate theoretical and methodological insights from multiple disciplines to analyze important psychological, social, legal, and environmental problems across the multiple contexts in which they are situated.
Design research the results of which can be used to mitigate those problems.
Research
Students are encouraged to become involved in research in their first year of study by participating in the research projects of the faculty. Students complete a supervised research project before they begin work on their doctoral dissertation. Research is broadly construed to include experimental methods, questionnaire and interview studies, systematic field observation, secondary analyses, and legal analyses. This predissertation research project should be completed during the second year in residence and must be evaluated and approved by a committee of 3 faculty members.
A sampling of faculty research and teaching interests includes human stress; health promotion; program evaluation; economic change; end-of-life medical decision-making; violence and aggression; legal sanctions and deterrence; white-collar and organized crime; transitions to parenthood; personality and psychopathology; urban growth management; transportation policy; poverty and homelessness; community design and development; regional economic development; water and air quality; biotechnology; community approaches to HIV/AIDS prevention; the health impacts of work environments; and environmental regulation. Social Ecology Core students will have the opportunity to collaborate with faculty, within the School of Social Ecology, and across the UCI campus.
Graduate Courses in Social Ecology
Students enrolled in the PhD program in Social Ecology are encouraged to take courses throughout the university, both within and outside of the School of Social Ecology. In addition, students from throughout the university are welcome in our courses. Following is a list of courses that have been identified as multidisciplinary and which integrate the Social Ecological model:
Social Ecology
SE200 Seminar in Social Ecology
SE261 Strategies of Theory Development
SE 266A: Structural Equation Modeling
SE 266B – Logistic Regression
SE 266E – Applied Longitudinal Data Analysis
SE 272B: Structural Equation Modeling: Longitudinal and Advanced Topics
Criminology, Law and Society
C220 Law, Violence and Human Rights
C235 Theories of Crime
C249 GIS
C251 Qualitative Methods--methods applicable to multiple disciplines
Psychology and Social Behavior
P214 Social Psychology
P220 Developmental Psychology
P226 Emotion in Psychology
P233 Personality
P250 Emotion, Reasoning and Memory
P258 Health Psychology
P266 Psychology and the Law
Planning, Policy and Design
U209 Qualitative Research Methods: Foundations
U220 Qualitative Research Methods: Fieldwork & Data Collection
U221 / PS 221A / C255 Public Policy
U223 Regional Analysis
U227 Qualitative Research Methods: Case Study
U239: Urban Design Theories and Application
U242 Regional Development Theory
U278 Culture, Community, and Space
U284 Theories of Public Policy
Program Structure
Students complete the breadth requirement during their third year of study. This is accomplished through successful completion of either a written comprehensive examination or the submission of a major paper or series of papers that intensively examine specific substantive problems and bodies of research. Preferably, the perspective taken should be multidisciplinary, but a single disciplinary approach is acceptable if it is more congruent with the student's educational goals and is acceptable to the student's committee. Each student's plans for completing the breadth requirement are developed in collaboration with a committee of three Social Ecology faculty members. Students are encouraged to meet with this committee as early as possible during their graduate career and are required to do so no later than the third quarter of their second year. When the student's plans have been approved and implemented, the examining committee will determine whether the breadth requirement was successfully completed, and will recommend additional academic work if it is deemed necessary. The normal time for advancement to candidacy is three years. The fourth and fifth years of study are devoted to developing and defending a dissertation proposal and conducting dissertation research.
Resources
Current students may access the SE Core Resource page for the student handbook, forms, and other guidelines.