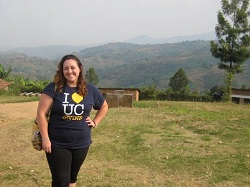 Erika Parkins, a senior majoring in Criminology, Law and Society, had the opportunity to serve on the Global Youth Connect Human Rights Delegation to Rwanda this past summer. Below, Erika reflects on how her volunteer efforts not only impacted the people with whom she interacted, but her life too.
When I was accepted as a delegate in the Global Youth Connect Human Rights Delegation to Rwanda, I thought about all the lives I would help change in Rwanda through volunteer work and advocacy in the program. However, it did not occur to me at first to think about how my experience in Rwanda would change my life.
Rwanda has been called one of the success stories of Africa. Out of the horror of genocide, a united and growing country has evolved. For the most part this is the picture I got of Rwanda directly from the people. Although Rwanda is not without its struggles, they have taken great measures to rebuild and have accomplished many amazing things.
Almost everyone I spoke to had a story about their experience during the genocide, and they were all difficult to hear. Nevertheless, after almost every story I heard, there was a dialogue about protecting human rights in Rwanda now and how important it is to promote unity and reconciliation to assure that genocide can never happen again. Many of the government officials and NGO's we were fortunate enough to meet with had a similar perspective as well and viewed protection of human rights as something foundational to a successful and peaceful country.
I was astonished by people's capacity to forgive each other and put the group's needs above their own losses. Many people lost their entire family, and yet they have forgiven the perpetrators of their crimes. One person I met told me this: "We will never forget the past, but we must forgive and help each other and use that experience to learn so that it can never happen again here [in Rwanda] or anywhere else." This global and community based ideology has always seemed so perfect to me, and seeing it in action was inspiring. The fact that a country with such a horrific event in their recent past is able to commit to this belief system, speaks volumes to the resiliency and determination of the people of Rwanda.
If each of us can embody just a fraction of this way of thinking, and think globally instead of simply individually, I believe the world would be a much better place.