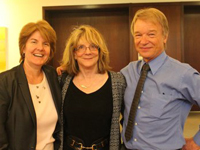 On April 25, 2012, Distinguished Professor Gary L. Wells was the featured speaker at the inaugural program in the Science to Fight Injustice Lecture Series. Wells (pictured, right, with Dean Valerie Jenness, left, and Professor Elizabeth Loftus, center) is an internationally recognized scholar in scientific psychology, who has worked with law enforcement across the country to reform eyewitness identification procedures. Local attorneys, law enforcement officers, students, faculty and community members attended the lecture to learn about the most recent research findings that may improve the accuracy of eyewitness identification.
This program was made possible through the generous support of the California Attorneys for Criminal Justice Foundation.
Missed the lecture? Watch it now!
Interested in attending an upcoming Science to Fight Injustice Lecture?
Please email Allison Yuzuki at ayuzukir@uci.edu to join our mailing list.