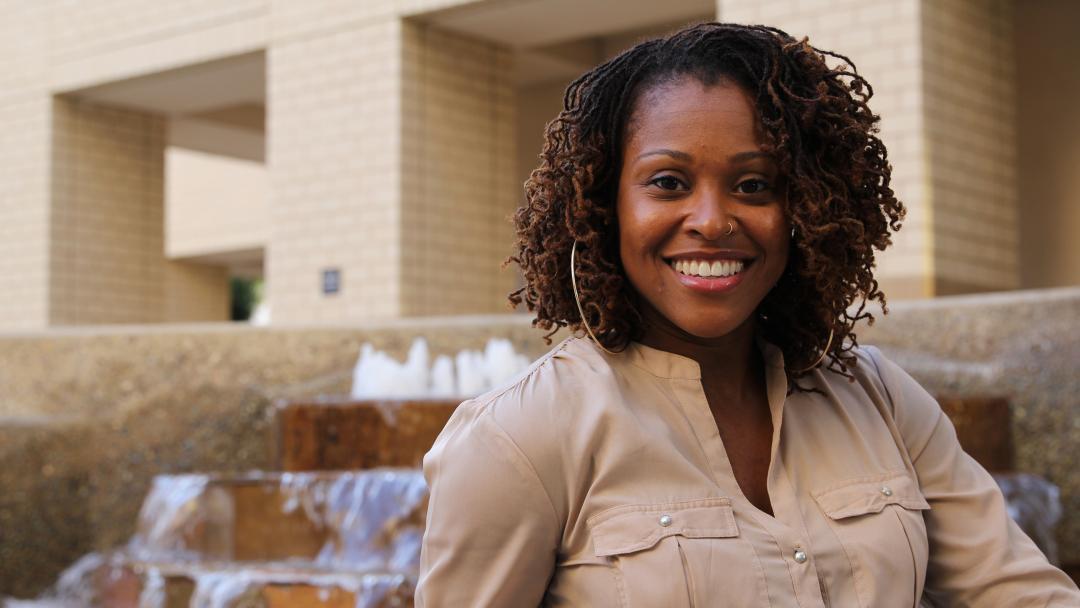 ---
Ph.D. student lands $50,000 grant to study officer de-escalation tactics
By Mimi Ko Cruz
Carolyn Coles-Taylor, a doctoral student in criminology, law and society, has been awarded a $50,000 grant from the Abdul Latif Jameel Poverty Action Lab – North America to fund her research on the ability of Los Angeles police officers to interpret the non-verbal emotion, and threat level, of civilians.
Her research aims to understand how pandemic specific regulations have impacted police and community relations at the individual level. She will evaluate how officer accuracy varies with the race and ethnicity of the civilian, and whether the civilian is wearing a face mask.
"We do not know the lasting effects of the pandemic on the many facets of our lives and policing is not exempt from this ambiguity," Coles-Taylor says. "I believe this research will illuminate the gaps in knowledge about police training development and efficacy as we continue to interrogate disparities in contact across race and gender."
Her project, she notes, will estimate the ability of 500 officers in the Los Angeles Police Department to assess non-verbal expressed emotion in the era of COVID-19.
"One of the central strategies currently used to control the spread of COVID-19 is encouraging, or requiring, the public to cover their face," Coles-Taylor explains. "The impact of these coverings on policing is currently unknown."
In her pilot study, she will test the impact of a simple, non-medical coronavirus mask on a police officer's ability to detect emotion, and their assessment of that emotion as threatening or nonthreatening. Eligible officers will be asked to assess expressed emotions in a series of photographs. Officers assigned to the control group will be given a set of unmasked emotive pictures to assign, and the treatment group will be given a set of otherwise identical masked emotive pictures.
"This pilot will serve as a preliminary test of the non-verbal communication skills and de-escalation tactics of police officers, and how public health directives have impacted how police and the community interact," Coles-Taylor says. "This is critical for understanding how the COVID pandemic has impacted policing, which as an institution plays a central role in the persistence of structural inequality in the US."
"I am very excited to see how Carolyn's research develops," says Emily Owens, professor of criminology, law and society. "Her work fills a critical gap in what academics and practitioners know about police training."
Coles-Taylor earned her bachelor's degree in marketing from Virginia Commonwealth University and her master's degree in international and intercultural communication from the University of Denver. She plans to complete her Ph.D. in 2024 and pursue a career in research.
She says she chose to study at UCI because of Owens, an expert in the economics of crime, including policing, sentencing, and the impact of local public policies on criminal behavior.
"The interdisciplinary nature of the program is what drew me to it, and I get to work with Emily Owens," Coles-Taylor says.
It was the 2016 death of Philando Castile, the 32-year-old African American man who was fatally shot by a police officer during a traffic stop in Minnesota, that compelled her to change direction in her educational journey.
"I started studying police after Philando was killed, shifting gears from education to policing," Coles-Taylor says, adding that she could no longer stand so many killings of Black people at the hands of police. "I couldn't be silent any more. I had to do something."
So, she teamed with the Denver Police Academy to build a bias and communication course and evaluate it. From that experience, she learned everything about policing as an organization and the internal dynamics, such as conflict among officers, which informs her current studies.
"I'm optimistic about today's social awakening and I feel like this is a time when law enforcement will have to look in the mirror and grapple with a lot of the historical wrongs that have happened," Coles-Taylor says. "Society is demanding change moving forward and that's really exciting because both sides are engaged and both sides are relentless at trying to figure out how to properly serve the community in all its categories of diversity."