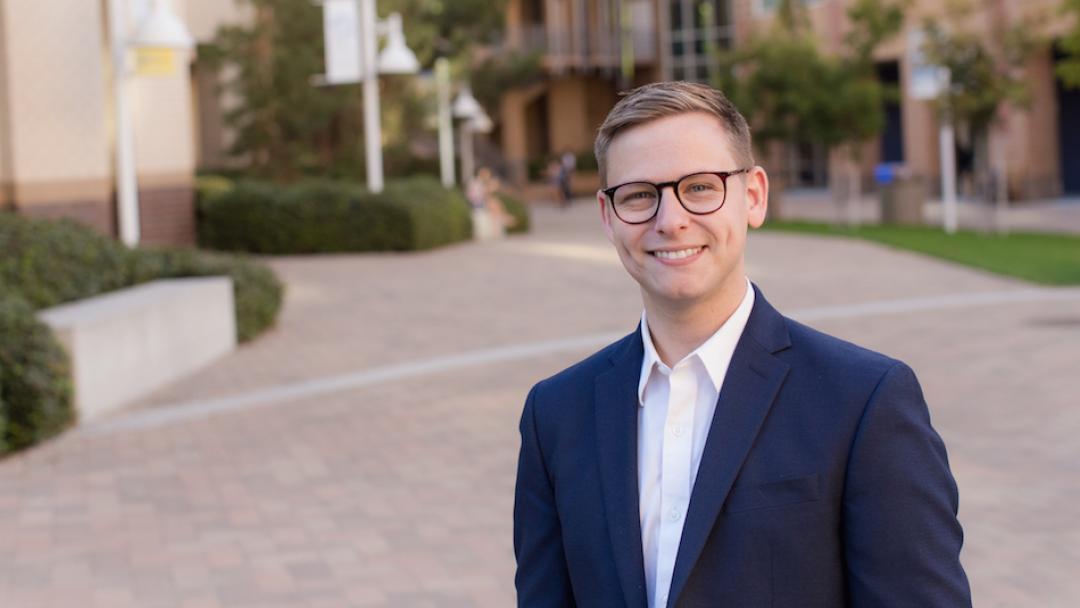 Adam Fine, who received his Ph.D. in Psychology and Social Behavior in June, was one of four awardees from across campus of the 2017 UCI Public Impact Distinguished Fellowship.
Fine's research seeks to improve the ways that young people interact with and perceive law enforcement and the justice system.
"Recent events have cast a national spotlight on interactions between law enforcement and young people of color," Fine says. "We need empirically-supported policies to rebuild trust in the system, and my research seeks to inform those policies."
During his graduate career at UCI, Fine published over 18 academic articles, 13 of which he was the first author. His research focuses on how youth perceive and interact with the justice system, and how their perceptions affect their compliance with legal authorities.
For his dissertation, he designed four studies to examine how adolescents develop perceptions towards the justice system, how perceptions have been changing over the past 40 years, and how those perceptions affect offending.
For this work, he was awarded the UCI School of Social Ecology's Martha Newkirk Award for Excellence in Research, the Department of Psychology & Social Behavior's Alison Clarke-Stewart Graduate Dissertation Award, and the American Psychological Foundation's (APF) Annette Urso Rickel Foundation Dissertation Award for Public Policy.
Fine was also selected this year as one of two students to represent UCI at an American Association for the Advancement of Science workshop on promoting federal funding for science. To bridge research and policy, he met with staff in the offices of Sen. Kamala Harris, Rep. Dana Rohrabacher, House Majority Leader Kevin McCarthy, and House Minority Leader Nancy Pelosi.
In addition to teaching and mentoring students, Fine has served as lab manager for a project tracking more than 1,200 male juvenile offenders called "Crossroads." Under Dr. Elizabeth Cauffman's mentorship, Fine coordinated and analyzed data for three separate sites and managed undergraduate researchers.
Fine will join the faculty at Arizona State University this fall as an Assistant Professor of Criminology & Criminal Justice.