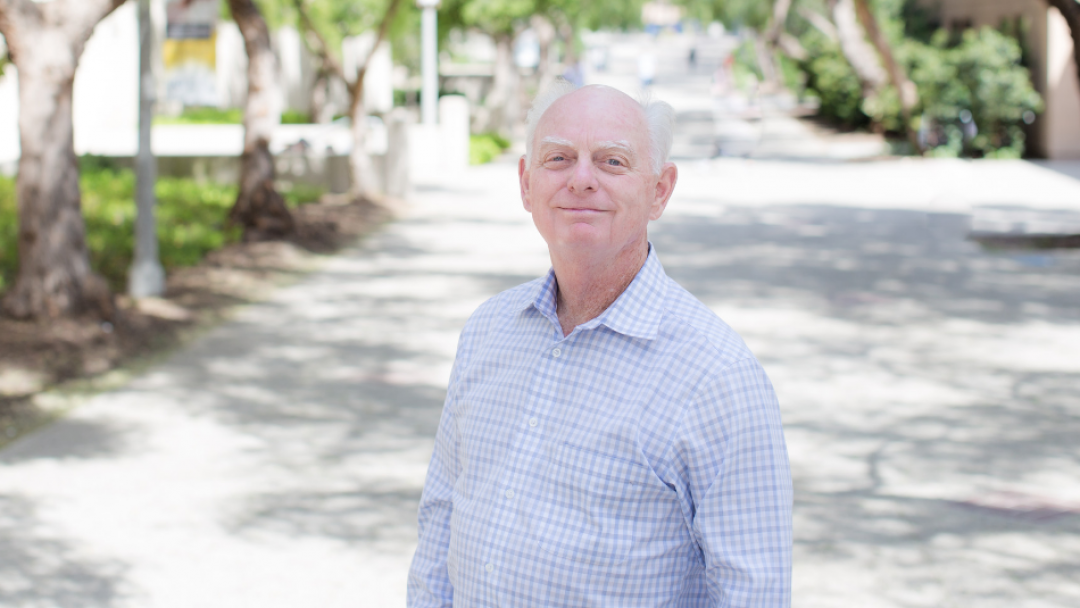 Gary Fudge. Photo by Patricia DeVoe
---
Philanthropist Gary Fudge provides scholarships to help students facing hardships
By Mimi Ko Cruz
Gary Fudge was reading the newspaper some eight years ago when he came across a story about a struggling college student who was able to stay in school and complete his degree, thanks to a scholarship.
"The scholarship enabled him to even graduate a little earlier since he didn't have to take another part-time job, and I thought, I'd like to do something to help like that," Fudge recalls.
So, Fudge, a big fan of the School of Social Ecology, met with Professor Valerie Jenness, who was dean at the time, and created the Fudge Family Scholarship for social ecology undergrads who are facing hardships supporting themselves and are in need of financial assistance.
"Gary came to me with a deep commitment to helping Social Ecology students and a clear vision on how to do so," Jenness recounts. "Simply put, he wanted to provide the financial means to support hardworking students who had overcome considerable obstacles on their academic journey. His goal was — and is — to enable their academic success. The results have been tremendous."
Every year since 2012, two or three students are named Fudge Scholars and each receives a $5,000 scholarship. The recipients are hard-working students with high grades. Some are parents, juggling kids' schedules and jobs. Others have faced daunting challenges and overcome myriad challenges.
"They have the most amazing stories," says Fudge, of Newport Beach. "One student told me about his struggles growing up. He hardly went to school his freshman year of high school and did drugs and alcohol. His dad died his junior year, but his best friend's mother took him in and told him he had to go to college so he went to community college and worked three part-time jobs, then transferred to UCI, got on the Dean's honor list and then went to law school."
Other Fudge scholars who overcame staggering odds and completed their degrees include a battered wife and one-time UCI dropout, who raised her teenage son alone and paid off medical bills from spinal surgery she underwent as a result of her ex-husband's attacks when she reentered UCI at age 50; a former foster child who had dropped out of middle school; and a victim of sex trafficking, who was raised by a single mom battling mental illness, alcoholism and drug addiction.
They are resilient, successful and inspiring, Fudge affirms, saying that providing the scholarship is his great pleasure. "It makes me feel good to do something that makes a difference for someone."
And, his beneficiaries are grateful.
"Thanks to the Fudge Family Scholarship, I was able to purchase a quality prep course and obtain an LSAT (Law School Admissions Test) score in the top 90th percentile," says Brad Bowlin, who earned his bachelor's degree in criminology, law and society in 2013 and now is an Orlando public defender. "I was accepted to University of Georgia School of Law, a top 30 ranked law school, with a substantial scholarship. Getting into a good law school and leaving with as little debt as possible was a big goal of mine because I knew that I wanted to be a public defender, which of course, meant I would not have a large salary. The Fudge Family Scholarship has had a much more far reaching effect than I would have ever expected. By that same token, I have been able to provide assistance to hundreds of indigent individuals through my work as a public defender. Gary Fudge and the Fudge Family Scholarship are a testament to the idea that a single philanthropic act can have a much greater and far-reaching positive influence on the world."
For Fudge, who survived a massive stroke in 2010, it's a matter of "doing nice things for people."
The 75-year-old philanthropist says that since the day he didn't die, his philosophy is simple: "Enjoy today and make it count. It could be your last day."
Scholarship awards are more than just a nice gesture, says School of Social Ecology Dean Nancy Guerra. "They have a transformative effect on the future of the students, transcending the immediate economic impact while in school. The honor builds their reputation among peers and future colleagues."
Fudge, who has four children and four grandchildren, earned a bachelor's degree in physics and a master's degree in nuclear engineering from Princeton and an MBA from American University. He was successful investing in start-up companies and now spends his time as a trustee of the Fudge Family Foundation, which supports worthy organizations including UCI and Hoag Hospital, where he credits doctors for saving his life after his stroke.
"I'm grateful I'm alive and I just want to make other people's lives a little bit better," Fudge says.
Fudge Scholars
The following are all the students who received Fudge Family scholarships through 2018, the year they received them and their majors. Most have completed their bachelor's degrees.
2018
Kevin McKinnon, criminology, law and society
Dawn Murphy, psychology and social behavior
2017
Stephanie Leon, criminology, law and society
Sonya Tillman, criminology, law and society
2016
Braelyn Havig, criminology, law and society
Gabriel Rosales, criminology, law and society
Michael Bender, criminology, law and society
2015
Kaitlin Kalisvaart, social ecology and criminology, law and society
Candice Sandoval, criminology, law and society and Chicano/Latino studies
2014
Helen Tiik Daar, psychology and social behavior
Patricia Jean Place, psychology and social behavior
2013
Anthony Pham, social ecology
Sahar Salehpour, psychology and social behavior
2012
Brad Bowlin, criminology, law and society
Cryssie Anne Brommer, social ecology
Linda Rita Jones, social ecology