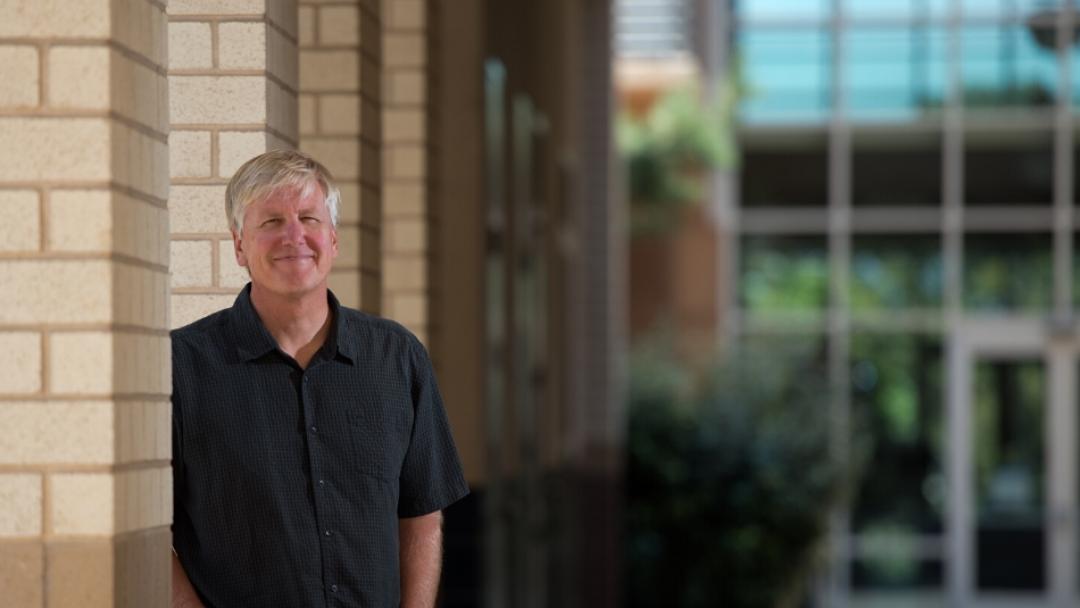 "Salivary testing has enabled a large volume of research focused on stress biology in humans." — Douglas A. Granger
---
"Salivary Bioscience" reveals foundation of knowledge of a high-impact interdisciplinary field
By Matt Coker
If ever there was a time when monitoring infectious disease exposure was a hot topic, it is now. Referencing his colleague Chris Heaney, associate professor in the Department of Environmental Health, Bloomberg School of Public Health at Johns Hopkins University, UC Irvine Chancellor's Professor Douglas A. Granger says in a recent interview, "Before this most recent outbreak [of coronavirus] was dominating the news, our collaborative research efforts were focused on monitoring exposure to infectious diseases in population settings."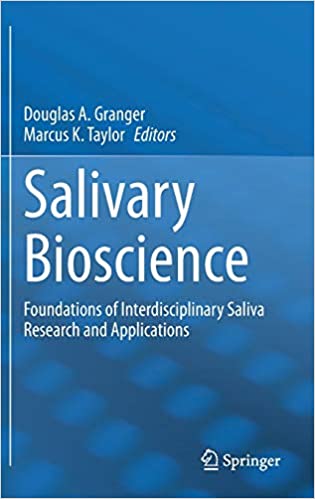 Heaney's research group uses saliva as a minimally invasive alternative biospecimen to blood sampling, which is why "The Utility of Antibodies in Saliva to Measure Pathogen Exposure and Infection" is Chapter 13 of "Salivary Bioscience: Foundations of Interdisciplinary Saliva Research and Applications," which was edited by Granger and Marcus K. Taylor, a UCI faculty affiliate and American College of Sports Medicine Fellow.
Just published by Springer Nature Publishing, "Salivary Bioscience" is the first macro primer on the use of saliva in a dizzying array of medical, non-medical and even commercial areas. Heaney's contribution — co-written by his Johns Hopkins' colleagues Pranay R. Randad, Linday Avolio, Nora Pisanic, Kyla Hayford, William J. Moss, Richard Baldwin of nanoComposix, a San Diego company that specializes in the design of point of care testing, and Granger — shows that antibodies in people's saliva can reveal who has been exposed to a virus as well as how long ago that exposure was. But, that's not all you will find in "Saliva Bioscience," as Granger proved when he pointed to the chalkboard in his office that displayed a list of 30 chapters in the book, each representing a different discipline — from pediatrics, dentistry and sports medicine to neuroscience, psychology, animal welfare, public policy and precision medicine.
"Over the years, there have been two general themes of salivary research," Granger explains. "One is focused on oral health and dentistry, and that research tract has explored saliva as a diagnostic fluid. In parallel, there is a large group of investigators who are interested in using biological measures in more behavioral science models and research programs. They really can't use blood for reasons x, y or z, and the minimally invasive nature of saliva allows them to study biology and behavior and health in context. So, separate from saliva diagnostics in the oral biology field, there are teams of investigators integrating biological measurements in disciplines like sociology and psychology and anthropology and you-name-the-ology who are saying, 'Hey, it's easy to collect a sample. … What can I measure in this saliva sample that might enable me to advance my theory or idea, solve a problem, or answer a unique research question?'"
Pointing to his chalkboard, Granger adds, "the studies have progressed from being primarily focused on children to include adolescents and adults of all ages and also jumped tracks into studies with animals. Often, animal research informs studies with humans. In this case, the reverse has been somewhat true. Salivary testing has enabled a large volume of research focused on stress biology in humans. Interestingly, this work is now starting to inform the way that studies are done on animal health and welfare."
For proof, go to "Salivary Bioscience and Research on Animal Welfare and Conservation Science," which is chapter 28 of Granger and Taylor's edited volume.
Lance J. Miller, vice president of Conservation Science and Animal Welfare research at the Brookfield Zoo and the Chicago Zoological Society, and Molly Staley of Loyola University Chicago's Department of Biology cover what saliva can tell us about animal welfare and well-being.
"Saliva sampling allows veterinarians, researchers and caregivers to sample biological parameters from individual animals repeatedly without the procedure causing burden or distress," Granger explains. "This information may be useful when professionals are interested in evaluating the impact of a change in an animal's diet, social grouping, enclosure, schedule or routine, and caregiving staff on their health and well-being."
Whether it's from an animal or a human, sampling saliva has the potential to yield important information. A considerable amount of salivary research has involved the study of how the link between biology and behavior is modified by family relationships, which is also included in the book's 10th chapter, "Salivary Bioscience and Human Development" by Leah C. Hibel and her UC Davis Department of Human Ecology colleague Andrea C. Buhler-Wassmann and Kristine Marceau of Purdue University's Department of Human Development and Family Studies.
"Several of our studies have focused on whether higher testosterone is associated with more aggressive behavior in children and adolescents," Granger says. "Saliva sampling has enabled us to include hundreds and hundreds of kids in our projects and our findings suggest the relationship between testosterone and behavior problems is complex. What we figured out was whether testosterone is or isn't linked to problem behavior depended largely on characteristics of the children's families. So, if you had parents who really cared about their relationship with you and knew who you were hanging out with and what you were doing, there was no relationship between higher testosterone and aggressive behavior. But, if you have higher testosterone and your parents have no idea who you are with and don't seem like they are that intimately connected to you and don't know where you are, then the relationship reveals higher testosterone associated with higher levels of problem behavior."
Saliva sampling is also being employed to determine how people adjust and adapt to extreme environments. Salivary Bioscience's 24th chapter reviews the findings of studies being done with military personnel and with individuals who are in circumstances related to training and going into space. "Salivary Bioscience in Military, Space, and Operational Research" was written by Peter G. Roma of NASA's Behavioral Health & Performance Laboratory, his NASA Biomedical Research and Environmental Sciences Division colleagues Satish K. Mehta and Brian E. Crucian and Meaghan E. Beckner and Bradley C. Nindl of the University of Pittsburgh's Neuromuscular Research Laboratory/Warrior Human Performance Research Center.
The chapter, "Salivary Bioscience and Environmental Exposure Assessment," written by Parinya Panuwet, Priya E. D'Souza, Emily R. Phillips, P. Barry Ryan and Dana Boyd Barr of the Emory University School of Public Health, includes, for instance, a look at how people are exposed to tobacco smoke without even knowing it. "Cotinine, a metabolite of nicotine, can be measured very precisely in saliva," Granger says. "You can detect whether someone has been exposed because the environment they are living in previously had smokers, like a rental car or hotel room or apartment. Our studies even show that cotinine is detectable in the saliva of infants of mothers who smoke."
What can now be studied with saliva is indeed vast, from the ancestry information unlocked by companies such as 23andMe to bacteria that is the subject of current research on another side of the UCI campus. "A faculty member here at UCI co-wrote a great chapter on the oral microbiome," Granger says of the Department of Molecular Biology and Biochemistry's Katrine Whiteson. "Hundreds of different types of bacteria are present in saliva and why they are important and why we care to measure them" are addressed in the piece, whose lead author is Heather Maughan of the Ronin Institute in Montclair, New Jersey.
"There's another investigator who wrote a chapter on monitoring therapeutic drug use," says Granger of Elizabeth A. Thomas from Scripps Research Institute's Department of Neuroscience. "Some drugs are given to us in doses that are designed for the average person, and we are not, any of us, the average person. If you could monitor something in your body, based on how your body processes that material, it may have tremendous value. The one [Thomas] is spending the most time on is lithium that is given to people to manage their mood swings, like those with bipolar disorder. If the drug level is too low, it cannot have any positive effect, and if it's too high, it can kill you. So there's a narrow therapeutic window; the idea is that saliva sampling, for psychiatric patients who are often non-compliant with blood draws, could enable professionals to monitor the variation in lithium levels in their patients more precisely, and that would be a win-win-win."
The vastness of the disciplines covered in "Salivary Bioscience" is truly amazing, but according to Granger, "The breadth of the applications is something the field is just starting to realize. The book is really an important step forward because, separate from the focus on saliva as a diagnostic fluid, research on these applications has had a major scientific impact on so many fields. This book is unique because the content it summarizes is scattered across journals from many different disciplines, investigators rarely read journals outside their home discipline, and, thus, it has been a challenge to have a perspective on the overarching value of the collective works."
Within the period over which these advances in salivary bioscience occurred, Granger founded the Center for Interdisciplinary Salivary Bioscience Research at Johns Hopkins University (where he remains an adjunct professor in the schools of Nursing, Public Health and Pediatrics) and then the Institute for Interdisciplinary Salivary Bioscience Research at Arizona State University, which moved with him to UCI in 2016.
"Our mission is to advance discovery by enabling and building teams of scientists with overlapping but non-redundant interests," says Granger, whose fellow IISBR scholars who contributed to "Salivary Bioscience" include: Whiteson; the Scripps Institute's Thomas; Michael A. Hoyt of UCI Population Health and Disease Prevention, who is the lead author of the chapter "Salivary Bioscience Research in Health Psychology and Behavioral Medicine"; and Alyson K. Zalta, UCI assistant professor of psychological science who co-wrote the book's closing chapter "Envisioning the Future of Salivary Bioscience" with lead authors Granger and Taylor.
Other book chapters include "Salivary Bioscience in Clinical Psychology and Psychiatry" and "Applications of Salivary Bioscience to Precision Medicine," written by Kate Ryan Kuhlman, assistant professor of psychological science, and Zahra Mousavi. Jenna L. Riis, assistant professor of psychological science, is the lead author of the chapters "Analytical Strategies and Tactics in Salivary Bioscience," "Salivary Bioscience, Immunity, and Inflammation" and "Public Health and Industry Applications of Salivary Bioscience." True to the spirit of team science, Kuhlman, Riis and Thomas supported the effort by serving as section editors and coordinating the writing teams within the volume's three major subsections.
In Granger's mind, "Salivary Bioscience" is "a text that reveals for the first time a foundation of knowledge that begins to define a roadmap of a high impact interdisciplinary field."
---
Media contact:
Mimi Ko Cruz
949-824-1278