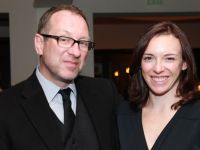 May 2012
Jessica Jackley, Venture Partner with Collaborative Fund, Founder and CEO of ProFounder, and co-founder of Kiva, received the 2012 Human Security Award from the Center for Unconventional Security Affairs (CUSA) on May 10, 2012. Jackley is a social entrepreneur focused on empowering other entrepreneurs in the US and around the world. Her work is centered on creating innovative ways for entrepreneurs to access the resources they need to succeed, including not just new sources of capital but the engagement of robust, supportive communities.
The Human Security Award is presented annually and recognizes an individual or group whose actions have made a dramatic difference in helping protect and empower the world's most vulnerable groups and communities.
Jackley is pictured with Richard Matthew, Professor and Director of CUSA.
Learn More: