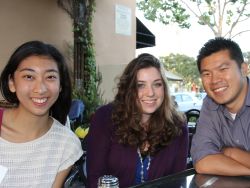 The Take a Student to Eat (TASTE) Program in the School of Social Ecology is designed to give students and alumni an opportunity to make meaningful connections. Our alumni are interested in volunteering their time and sharing their experiences and expertise with current students. Our students are looking to connect with alumni who have received Social Ecology degrees and can provide them with helpful information and career advice. The TASTE Program gives alumni and students an opportunity to meet face-to-face to create connections and share the Social Ecology experiences.
How it Works
Alumni volunteer to take 1-2 students out to an informal lunch or dinner. Alumni cover the cost of the meal, which doesn't have to be at a five-star restaurant-- just a place to enjoy a good meal and conversation together.
Social Ecology's Office of External Relations will make the alumni/student match and facilitate introductions via email. Alumni and students work out the date, time and location together.
While alumni and students are only committing to sharing one meal together, you are welcome to stay in touch and continue to build the relationships you form.
TASTE lunches or dinners happen year round during the fall, winter and spring quarters.
Benefits of Participating
Alumni Benefits

Help students explore careers
Make a positive contribution to the student experience
Give back to the student community by giving career advice and guidance
Further your own level of engagement with the School of Social Ecology
Find out what the current Social Ecology student experience is like on campus


Student Benefits

Get career related advice
Gain valuable information about a particular industry, sector or organization
Learn what you can do with your Social Ecology degree from someone who has gone through a similar education experience
Practice informational interview techniques, so that you can continue them and learn from others you meet
Be inspired by alumni career stories

For more information: