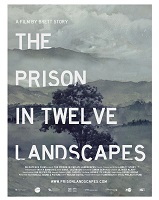 Come see this film screening and director discussion, Brett Story, who is a scholar of prisons and mass incarceration, Wednesday, May 17 at 4 p.m.
The film "The Prison in Twelve Landscapes" examines mass incarceration through 12 concise and creative vignettes. A meditation on the prison's disappearance in the era of mass incarceration, film unfolds as a journey through a series of ordinary places across the United States where prisoners do work and affect lives: from a California mountainside where female prisoners fight the region's raging wildfires, to a congregation of chess players in Manhattan who did their time becoming masters of the game, to an Appalachian coal town betting its future on the promise of prison jobs.
Today, 2.2 million people are in prison, up from 300,000 only 40 years ago. Yet as the film reveals, prisons have never felt more distant or more invisible for the general public. Not only are prisons built further than ever from population centers where people live and prisoners come from, but journalists, filmmakers, and researchers are increasingly denied access to the world inside their walls. The film challenges common assumptions about where the penitentiary ends and the outside world begins, posing a new set of questions about what it is that the prison system does.
The film screening and dicsussion will provide an opportunity to bridge art and science, through cross-school collaborations and conversations. This event will bring together students and faculty from the schools of Social Ecology, Humanities, the Arts, and Social Sciences. The event has been funded by Illuminations, the School of Humanities, the Anthropology Department, the Department of Criminology, Law & Society and the Department of Gender and Sexuality Studies.
When: Wednesday, May 17 at 4 p.m.
Where: McCormick Screening Room, Humanities Gateway
Sponsors: Departments of Anthropology; Criminology, Law & Society; and Gender and Sexuality Studies and the Chancellor's Illuminations Initiative