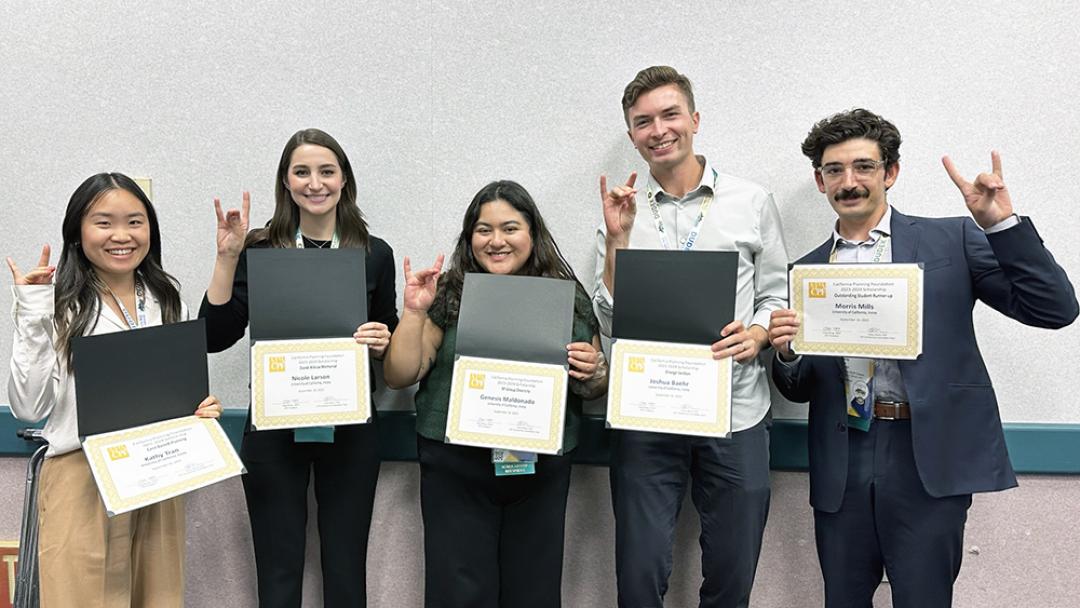 From left: MURP students Kathy Tran, Nicole Larson, Genesis Maldonado, Joshua Baehr and Morris Mills
---
California Planning Foundation awards $20,000
Thirteen students in the Master of Urban and Regional Planning (MURP) program have been awarded scholarships totaling $20,000 from the California Planning Foundation. The awards recognize outstanding planning students enrolled at eligible professional planning degree programs in California. Winners were selected based on their academic performance, financial need, increasing diversity in the planning profession and commitment to serve the planning profession in California after graduation.
The scholarship recipients and their CPF awards:
Joshua Baehr, Orange Section Scholarship ($1,500)
Angel Castro, Richard H. Weaver Memorial Scholarship ($2,000)
Nancy Delgado, Donald Bradley Public Health Planning Scholarship ($1,000)
Michael Greenberg, Orange Section Scholarship ($1,500)
Sonia Ho, VCS Environmental Scholarship ($1,000)
Nicole Larson, David Wilcox Memorial Scholarship ($1,000)
Genesis Maldonado, M-Group Diversity Scholarship ($1,000)
Christopher Martinez, Distinguished Diversity in Planning Scholarship ($1,000)
Max McNally, California Planning Roundtable Scholarship ($1,000)
Morris Mills, Outstanding Student Runner-up Scholarship ($4,000)
Chouatong Mouavangsou, Virginia Viado Memorial Scholarship ($1,000)
Kathy Tran, Carol Barrett Planning Scholarship ($2,000)
Natasha Mara Victa, Stanley R. Hoffman Memorial Scholarship ($1,000)
"I was so happy and surprised to be selected as one of the recipients of the CPF scholarship! I applied already knowing that it would be a rather competitive selection process, but I feel very appreciative that the selection committee found my application deserving of this scholarship," says Maldonado, who expects to graduate next year.
After earning her master's degree, she says she hopes to be involved in historic preservation and community development efforts for a city or firm that values equitable representation, culture and social wellbeing.
"The MURP program has brought me countless opportunities to grow on a personal and professional level," Maldonado adds. "I am very thankful and honored to be in a space with forward-thinking and kindhearted individuals."
The MURP program, established in 1992, educates aspiring planning professionals to solve societal, economic, and environmental challenges and build a just and sustainable future. It consistently ranks as one of the nation's top professional planning programs with full accreditation from the Planning Accreditation Board.
Planetizen, a publication that ranks graduate programs in urban planning, this year ranked the program 14th best in the nation. In addition, the MURP is ranked 8th for programs at public universities. And, it is ranked No. 1 for diversity.
"UCI's MURP program distinctively combines cutting-edge research, a diverse and talented student body, and relatively small cohort sizes," says Nicholas J. Marantz, associate professor of urban planning and public policy and MURP director. "The intimate nature of our cohorts has allowed us to foster a collaborative atmosphere that helps students to develop innovative solutions to some of society's most pressing problems."
Adds Jorge Padilla, MURP assistant director: "What makes our MURP program stand out is the care and mentorship our students receive from faculty, staff, alumni, and each other to ensure they are well-rounded in their pursuit of a career in planning."
— Mimi Ko Cruz