Upcoming Events
Science to Fight Injustice
October 4, 2012
5:30 – 7:30 p.m.
Featuring Saul Kassin, John Jay College of Criminal Justice, discussing false confessions.


The Future of the Death Penalty
October 17, 2012
3 - 5 p.m.
Panel discussion of the upcoming California ballot measure.


UCI Medal
October 27, 2012
5 - 10 p.m.
Honoring individuals who have made extraordinary contributions to UC Irvine.


Mentor Match Day
November 7, 2012
6 - 8 p.m.
Alumni Mentors will meet their student mentee matches.


Offshore Oil Drilling
November 9, 2012
9 a.m. – 5 p.m.
Examining the future of offshore oil drilling, with a case study of the Gulf of Mexico Oil Spill.


PPD Career Night
November 15, 2012
4 – 6 p.m.
Featuring a panel of Social Ecology alumni.

For up-to-date information on all upcoming Social Ecology events, please visit: socialecology.uci.edu/events

Mentor Program
The School of Social Ecology seeks alumni and community members with experience in various career fields. If you would like to help a student with career goals by sharing your experiences and advice, please consider becoming a mentor.
Learn More...
iTunes U
Interested in learning something new? Take Environmental Psychology from Professor Daniel Stokols for FREE on iTunes U. Learn More…
Flash Mob
Video
On the first day of Professor Richard Matthew's Spring 2012 Sustainability Series Lectures, the UC Irvine student vocal group Uniting Voices surprised their fellow classmates with a performance of the song "Fix You" by Cold Play. View Video...
Forward to a Friend
Know someone who is not getting our e-newsletter? Please send them the following link to sign-up: socialecology.uci.edu/signup
Metropolitan Futures Initiative Report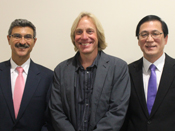 Chancellor Michael V. Drake hosted a breakfast for the release and discussion of the Metropolitan Futures Initiative (MFI) First Regional Progress Report. Community members, civic leaders, campus staff and faculty attended to learn more about the report, which focuses on the Southern California region and analyzes data on issues such as jobs, home values, crime, transportation and economic segregation. The report reveals complex connections among seemingly disparate community problems in order to develop more effective solutions to pressing and emergent challenges.
Read Report...
View Presentation...
Out of Harm's Way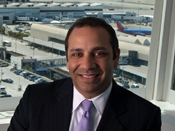 Social Ecology alumnus Arif Alikhan is dedicated to protecting people. An expert in counterterrorism and homeland security, he keeps watch over the world's sixth busiest airport, LAX. How do you secure an airport that transports 61 million passengers and 1.8 million tons of cargo a year? It is a question Arif deals with every day. Learn More...
The American Dream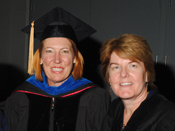 Orange County Sheriff Sandra Hutchens delivered the commencement address at the School of Social Ecology's commencement ceremony on June 17, 2012. Family members and friends filled the Bren Events Center to celebrate 930 students graduate with Social Ecology degrees. Sheriff Hutchens' inspiring speech encouraged students to believe in and pursue the American Dream. Learn More...
Endowed Malancha Ghosh Memorial Gift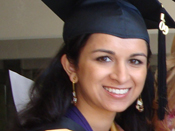 To honor their daughter and only child Malancha, Subir and Susnata Ghosh have endowed a memorial fund in the School of Social Ecology. Malancha, who received her Master's in Urban and Regional Planning in 2009, passed away in December 2009 at the age of 27 due to complications from H1N1. The Ghoshs' generous gift to endow the Malancha Ghosh Memorial Fund creates a lasting legacy for their daughter, while benefiting many students and faculty in the Department of Planning, Policy and Design. Learn More...
Understanding Psychopathy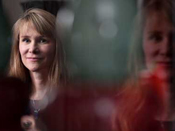 Jennifer Skeem, Professor of Psychology and Social Behavior, conducts research that requires understanding the minds of individuals most of us try to avoid: those with psychopathy. Psychopathy is a complicated and widely misunderstood personality disorder. While some people believe psychopaths are "born, not made," Skeem reviews research indicating that psychopathy is often shaped by an interaction between both environmental and genetic factors. Learn More...
Accolades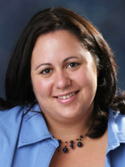 Joanne Frattaroli-Zinger, Lecturer in Psychology and Social Behavior, received the Lecturer of the Year Award from the Academic Senate Council on Student Experience and was honored at the 19th Annual Celebration of Teaching on May 24, 2012. Frattaroli-Zinger was also selected by the graduating class of 2012 and the UCI Irvine Anthology yearbook staff as the Outstanding Professor in the School of Social Ecology. View Photos...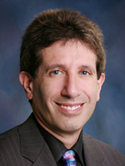 Larry Jamner, Professor of Psychology and Social Behavior, was presented with the School of Social Ecology's Excellence in Undergraduate Education Award at the 19th Annual Celebration of Teaching ceremony held on May 24, 2012. Jamner has enriched the educational experiences of thousands of students. As Dean Jenness commented at the ceremony, "In their reviews, Professor Jamner's undergraduate students write about his passion in teaching, his well-prepared lectures, his engaging style, and his innovative approach to teaching large classes". View Photos...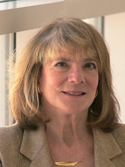 Elizabeth Loftus, Distinguished Professor of Social Ecology, has been selected as one of the recipients of the 2012 UCI Medal, the university's most prestigious award. The program bestows lifelong recognition on those who have made extraordinary contributions to the university's mission of teaching, research and public service. Learn More...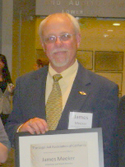 James Meeker, Associate Dean of the School of Social Ecology, received the 2012 Legal Aid Association of California (LAAC) Award of Merit. The LAAC Awards of Merit are the legal community's opportunity to recognize the importance of legal services and to honor those who have made contributions to the field. Associate Dean Meeker was honored on June 7, 2012 during the Pathways to Justice Conference.

View More Faculty and Student Accolades


Recent Events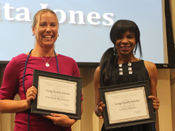 Student Awards Ceremonies:
Social Ecology students gave us many reasons to celebrate the 2011-12 school year, including their accomplishments in research, community service and academic achievement.
Learn More...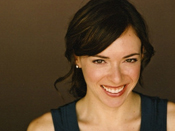 Human Security Award:
On May 10, 2012 Jessica Jackley, founder and CEO of ProFounder and co-founder of Kiva, was the recipient of the 2012 Human Security Award from the Center for Unconventional Security Affairs. She was honored for being a social entrepreneur who is focused on empowering other entrepreneurs in the U.S. and around the world.
Learn More...
New on the Bookshelf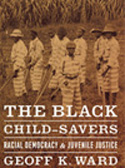 Professor Geoff Ward's The Black Child-Savers was recently published by The University of Chicago Press. The book examines the origins and organization of the Jim Crow juvenile justice system that endured across the nation for most of the twentieth century. Ward has conducted the first study of the rise, fall, and lasting remnants of this separate and unequal system.
Learn More...
Student Spotlight: Lori Ann Harris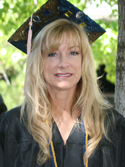 Overcoming many obstacles in her life, Lori Ann Harris graduated magna cum laude this year with a B.A. in Criminology, Law and Society. Lori's education journey at UC Irvine began in 2006, after her firefighter husband died in the line of duty. Needing to provide for her five children, Lori returned to college to redefine herself and rebuild.
Learn More...