Upcoming Events
PSB Career Night
May 9, 2012
4 p.m.
Featuring a panel of Social Ecology alumni.


Human Security Award
May 10, 2012
7 p.m.
Featuring Jessica Jackley, Founder and CEO of ProFounder and Co-Founder of Kiva.


Social Ecology Mentor Program Social
May 23, 2012
6 p.m.
For all mentor and students currently participating in the SE Mentor Program.


UCI Commencement
June 17, 2012
4 p.m.
Keynote address by Orange County Sheriff Sandra Hutchens.


For up-to-date information on all upcoming Social Ecology events, please visit: socialecology.uci.edu/events
Facebook
The School of Social Ecology is on Facebook! Become a fan and keep up-to-date on the latest Social Ecology news and events.
Find us on Facebook
A Legacy of Giving
There are many ways to make a difference in the lives that will follow you. Will the values you have today live on for the benefit of future generations? One way to share your values is to share your charitable legacy. Learn More...
YouTube Channel
The School of Social Ecology is on YouTube! Watch the latest videos, including "Fingerprint Evidence" by Professor Simon Cole. View Videos...
Forward to a Friend
Know someone who is not getting our e-newsletter? Please send them the following link to sign-up: socialecology.uci.edu/signup
Urban and Regional Planning 20th Anniversary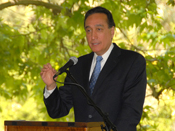 The Master of Urban and Regional Planning Program celebrated its 20th anniversary on April 3, 2012 with a luncheon featuring keynote speaker Henry Cisneros, executive chairman of CityView and former Secretary of Housing and Urban Development under President Clinton. The event benefited the Watson Fellowship Fund, named for one of the Irvine Company's original architects and urban planners. Learn More...

Science to Fight Injustice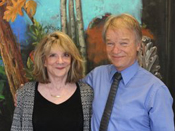 On April 25, 2012, Distinguished Professor Gary L. Wells was the featured speaker at the inaugural program in the Science to Fight Injustice Lecture Series. Wells is an internationally recognized scholar in scientific psychology and he discussed the most recent research findings that may improve the accuracy of eyewitness identification. This program was made possible through the generous support of the California Attorneys for Criminal Justice Foundation. Learn More...

The Dean Asks... Alumnus Sean Burton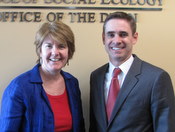 Valerie Jenness, Dean of the School of Social Ecology, interviewed alumnus Sean Burton '93 about his memories as a student, his career path that started with an internship in the White House, and current business endeavors as President of CityView, an investment firm focused on workforce housing. Learn More...
Retrofitting for Fitness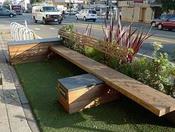 Students in the Master of Urban and Regional Planning program are gaining real world experience promoting public health. They have teamed up with multiple Orange County organizations to address health and wellness issues in low-income areas of five cities. To remedy the lack of park space in Garden Grove, for example, one group of students have identified that more trails, "parklets," crosswalks and public art would make neighborhoods more livable. Learn More...
Welcome


Scott Dubchansky and Gary Fudge join the Dean's Leadership Council, dedicated to advancing the School of Social Ecology's goals and mission. Dubchansky is a managing director of Rimrock Capital Management, LLC, an SEC registered investment advisor headquartered in San Juan Capistrano. Fudge is a Trustee of the Fudge Family Foundation, which has recently funded the Fudge Family Scholarships in the School of Social Ecology. Learn More...
Faculty and Student Accolades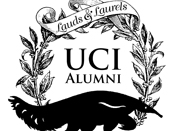 At the 2012 UCI Alumni Association Lauds and Laurels Ceremony on May 17, 2012 the following accolades will be awarded: Extraordinarius Award - Michael R. Gottfredson, Executive Vice Chancellor and Provost and Professor of Criminology. Distinguished Alumnus Award - Peter Fischler '80, alumnus and Managing Director at Coast Asset Management. Outstanding Student Athlete Award - Charles Jock, Social Ecology undergraduate student. Learn More...


Natalia Milovantseva, a Ph.D. candidate in Social Ecology, has been awarded a Fulbright Grant and will spend nine months in Ireland, Belgium and Baltic countries conducting research on e-waste policies in the European Union.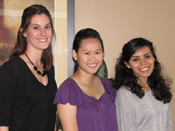 Undergraduate students Darlene Escobedo, Amber Morley, and Thanh Truong are this year's recipients of the Dean's Award for Community Engagement. This award recognizes students who exemplify a commitment to rigorous academics and sustained community work. Learn More...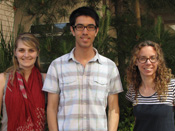 Congratulations to the first cohort of Peterson-Microsemi Fellows for the 2011-2012 academic year: Veronique Fortin, Lauren Gruber, and Sean Mallin. As Peterson-Microsemi Fellows, these students are associated with the Center for Law, Society and Culture, which promotes interdisciplinary work on the role of social, cultural and historical factors in the development and interpretation of law. Learn More...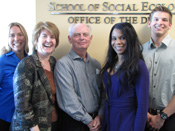 Undergraduate students Brad Bowlin, Cryssie Brommer, and Linda Jones were selected as the first recipients of the Fudge Family Scholarships. These self-supporting students were chosen for their strong display of work ethic and motivation to succeed academically despite facing significant challenges on the way to earning baccalaureate degrees in Social Ecology. Learn More...


Recent Events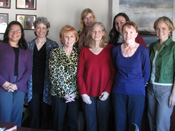 Johnson Chair Fellows Luncheon:
On February 10, 2012, Dean Valerie Jenness, Social Ecology Dean's Leadership Council member Janice Johnson, Professor Martha Feldman, and Social Ecology alumna Martha Newkirk celebrated the scholarly contributions of the Ph.D. students affiliated with the Roger and Janice Johnson Endowed Chair in Civic Governance and Public Management. This year's fellows include Julka Almquist, Jennifer Cordero, Deborah Lefkowitz, Victoria Lowerson and Katie Pine.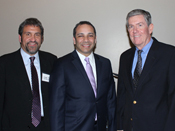 Public Policy Inaugural Class Welcome:
The new Master of Public Policy program hosted a reception for its inaugural class on February 29, 2012. The evening featured Social Ecology alumnus Arif Alikhan '90 (pictured with Program Director George Tita and Executive Vice Chancellor and Provost Michael Gottfredson), who is Deputy Executive Director for Law Enforcement and Homeland Security at Los Angeles World Airports. Learn More...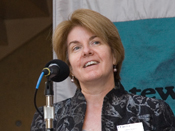 Honors Transfer Council of California:
On March 31, 2012 Dean Jenness received a standing ovation after giving a keynote address at the Honors Transfer Council of California Student Research Conference, hosted by UC Irvine. In her speech, she encouraged hundreds of community college honors students to revel in education, take seriously the responsibilities that go along with becoming more educated, and figure out ways to give back to their communities. Dean Jenness concluded by telling students: "While your educational accomplishments testify to your individual achievement and leadership skills, what you do with your privilege born of education will testify to your character."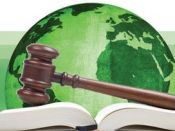 Pesticides:
On April 12 and 13, 2012, the School of Social Ecology partnered with other campus affiliates to host the symposium "Pesticides: Domestic and International Perspectives from Science, Law and Governance" that brought together community leaders and research experts in law, science and public policy to discuss the controversial issues surrounding pesticide regulation and use. This was the tenth conference in the "Toward a Sustainable 21st Century" series. Learn More...


Field Study Spotlight: EcoMotion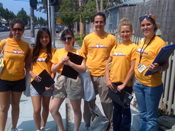 All undergraduate students in Social Ecology are required to take part in Field Study, which is a unique experiential-learning program and a key element of the School's commitment to training experienced, competent, and compassionate future leaders. For the past six years, EcoMotion has partnered with Social Ecology to make an impact on the education of our students. Learn More...