Upcoming Events
Human Security Award
May 4, 2011
7 - 9 p.m.
Honoring Alexandra Cousteau, founder of Blue Legacy


Building Resilient Neighborhoods
May 4, 2011
6 - 8:30 p.m.
Featuring Dan Immergluck, Georgia Tech University


Innovation Without Borders
May 19, 2011
8 a.m. - 5 p.m.
TEDx event featuring Professor Richard Matthew, CUSA and Planning Policy & Design, UC Irvine


UCI Commencement
June 11, 2011
2:30 p.m.
Keynote address by Mayor Sukhee Kang, City of Irvine


For up-to-date information on all upcoming Social Ecology events, please visit: socialecology.uci.edu/events
Facebook
The School of Social Ecology is on Facebook! Become a fan and keep up-to-date on the latest Social Ecology news and events.
Find us on Facebook
A Legacy of Giving
There are many ways to make a difference in the lives that will follow you. Will the values you have today live on for the benefit of future generations? One way to share your values is to plan your charitable legacy. Learn More...


YouTube Channel
The School of Social Ecology is now on YouTube! Watch the latest videos showcasing the impactful research being done by our faculty and students.
View Videos


Student Blog
It's that time of year when high school seniors are making choices about where to attend college. In an effort to help prospective students to learn more about the School of Social Ecology, we officially launched a blog that has posts ranging from faculty and student spotlights to campus resources.

Do you know a student planning to attend college? Please share on our blog!


NPR and NY Times
Social Ecology faculty are often interviewed by the media or invited to comment on societal issues. Recently, Patt Morrison of NPR asked Valerie Jenness, Dean of Social Ecology and Professor of Criminology, Law and Society, to draw on her recent research on transgender prisoners to comment on the current California lawsuit that could potentially require the state to pay for transgender inmate sex-change operations.
Listen to Interview

Henry Pontell, Professor of Criminology, Law and Society, was quoted in a front-page article in the New York Times on April 14, 2011 regarding the lack of major prosecutions in the financial crisis.
Read Article

Forward to a Friend
Know someone who is not getting our e-newsletter? Please send them the following link to sign-up: socialecology.uci.edu/signup

The Dean and Chair Ask... Alumna Joan Patronite Kelly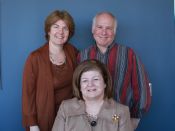 Valerie Jenness, Dean of the School of Social Ecology, and David Feldman, Chair of the Department of Planning, Policy and Design, interviewed alumna Joan Patronite Kelly '77 about her memories as a student, current business endeavors and contributions to the community. Her company, BonTerra Consulting, is identified by the Orange County Business Journal as one of the Top 40 Largest Women-Owned Businesses in Orange County. Learn More...

The Kids Are All Right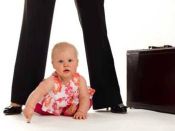 Wendy Goldberg and JoAnn Prause, faculty in the Department of Psychology and Social Behavior, have found that a mother's work status is not associated with their children's achievements or behavior. "We still have a long way to go in communicating... that there are no great costs - or huge benefits - to maternal employment for children," says Goldberg. Learn More...

Microsemi Corporation Supports Students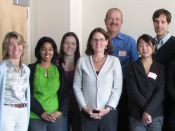 Thank you to Jim Peterson, CEO of Microsemi Corporation in Irvine, Trustee of the UCI Foundation, and member of the School of Social Ecology Dean's Leadership Council, for his recent gift to support graduate student research. Students selected for a fellowship will be associated with the Center for Law, Society and Culture, which promotes interdisciplinary work on the role of social, cultural and historical factors in the development and interpretation of law. Learn More...

Faculty, Student, and Alumni Accolades


Elizabeth Loftus, Distinguished Professor in Psychology and Social Behavior and Criminology, Law and Society, is this year's recipient of the Scientific Freedom and Responsibility Award from the American Association for the Advancement of Science (AAAS). This award recognizes her pioneering research on human memory, which has had a profound impact on the administration of justice in the United States and abroad. Learn More...
Undergraduate students Sang Xuan Do, Mahrukh Madad, and Stacey Tsuboi are this year's recipients of the Dean's Award for Community Engagement. This award recognizes students who exemplify a commitment to rigorous academics and sustained community work. Learn More...

Alumna Joan Patronite Kelly '77 will receive the 2011 School of Social Ecology's Lauds and Laurels Distinguished Alumnus Award. She will be honored at the 2011 UCI Alumni Association Lauds and Laurels Ceremony on May 12th. Learn More,,,

View More Faculty and Student Accolades
Recent Events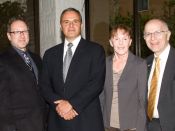 Cyber Security:
Rafal Rohozinski, a Canadian expert and practitioner in the fields of information security and cyber warfare, was the featured speaker on February 18, 2011, at UC Irvine. Hosted by the Center for Unconventional Security Affairs, The Newkirk Center for Science and Society, and the Consulate General of Canada, Los Angeles, Rohozinski presented on cyberspace challenges, including national security, the industrialization of cyber crime, and problems of governance.
Learn More...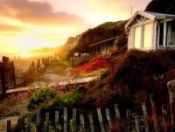 Enhancing the Future of the California Coast:
On March 4, 2011, the School of Social Ecology partnered with other campus affiliates to host a day-long symposium that brought together community leaders and research experts in law, science and public policy to discuss the preservation of the California coast. This was the eighth conference in the "Toward a Sustainable 21st Century" series.
Learn More...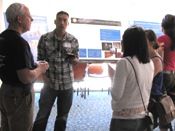 Social Ecology Alumni Reunion:
Social Ecology alumni were welcomed back to campus for a special gathering during Celebrate UCI on April 16, 2011. Alumni had an opportunity to reconnect and tour the new Social and Behavioral Science Building. Interested in attending next alumni gathering?
Sign-up for Future Announcements...
In the Classroom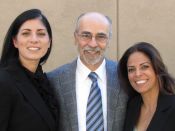 Students in Professor Raymond Novaco's class "Violence and Society" had an opportunity to learn beyond the classroom wall by hearing personal experiences of domestic violence victims as well as the programs that exist for survivors of domestic violence in Orange County. Guest speakers included Mari Reed from Anaheim Family Justice Center (AFJC) and Layla Abdul from Human Options. Novaco has conducted studies at Human Options on the psychological distress of the women and children in shelters. Currently, Novaco is conducting research at AFJC on domestic violence victims and the effectiveness of the Center's integrated service model.


New on the Bookshelf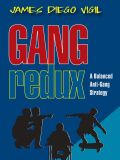 Professor James Diego Vigil's book, Gang Redux: A Balanced Anti-Gang Strategy has recently been published by Waveland Press. The book offers a compelling analysis of why youths join gangs, and discusses effective strategies to steer youths away from gang involvement and redirect them toward productive activities. Vigil explores the complex circumstances that lead to gang membership and cites successful programs that target family, school, and law enforcement.


Students Collaborate in Design Competition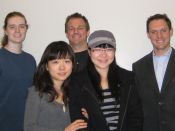 For the second year, students from the School of Social Ecology and The Paul Merage School of Business teamed up to compete in the 9th Annual ULI-Gerald D. Hines Student Urban Design Competition. This prestigious national competition invites graduate student teams to collaborate across multiple disciplines in the design of a responsible urban land-use project. Congratulations to team members Sara Quiggle, Sunny Yi and Elaine Xue, graduate students in the Department of Planning, Policy and Design.


Reigning Champs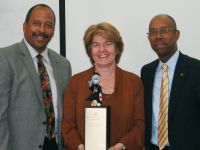 Last year the School of Social Ecology and our exalted leader Dean Valerie Jenness received the 2010 Best Zot! Zot! Zot! Commencement Award for the greatest display of Anteater spirit during its commencement ceremony. Out of all of the schools on campus, Social Ecology administration and students had the most thunderous Zot! Zot!Zot! chant and supreme Anteater hand gestures. As champions, we will fiercely protect our standing as champions at this year's commencement. Woe to those who would dare to challenge us!