Upcoming Events
Antigone vs. Oedipus? Catastrophe and Classicization from Antigone's Claim to Germany in Autumn
Friday, December 3, 2010
2 - 3 p.m.
Featuring Bonnie Honig, Professor of Political Science, Northwestern University


UCI Homecoming
Saturday, January 22, 2011
4 - 9 p.m.
Street Festival and Men's Basketball Game


Toward the Healthy City: People, Place and the Politics of Urban Planning
Tuesday, January 25, 2011
5:30 p.m. - 8 p.m.
Featuring Jason Corburn, Associate Professor of City & Regional Planning, UC Berkeley


For up-to-date information on all upcoming Social Ecology events, please visit: http://socialecology.uci.edu/events
Mentor Program
Make a Difference!
Become a mentor!
The School of Social Ecology seeks alumni and community members with experience in various career fields. If you would like to help a student with career goals by sharing your experiences and advice, please consider becoming a mentor. Learn more...
Lauds & Laurels Nominations
Please help the UCI Alumni Association find the 2011 Lauds & Laurels honorees by submitting your nomination! Alumni and community friends are encouraged to participate in the nominations process. Learn more...


Helms Award
Congratulations to alumnus Thomas Parham '77, who was recently awarded the Janet E. Helms Award for Mentoring & Scholarship from Teachers College, Columbia University. Thomas is currently serving UC Irvine as the Interim Vice Chancellor for Student Affairs.

We know Thomas is one among many of our alumni who is receiving recognition for their work. We would like to hear about your personal story or current accomplishments! Please email us at secomm@uci.edu


Facebook
The School of Social Ecology is on Facebook! Become a fan and keep up-to-date on the latest Social Ecology news and events. Find us on Facebook
Forward to a Friend
Know someone who is not getting our e-newsletter? Please send them the following link to sign-up: socialecology.uci.edu/signup
Confronting Societal Problems, Social Ecology Style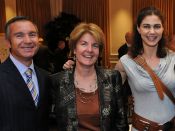 The School of Social Ecology had an opportunity to feature its faculty research in a presentation to more than 80 UC Irvine Foundation members and community leaders on September 23, 2010 at the Pacific Club. Attendees learned about several societal issues addressed by our faculty: conflict and peace-building, reentry of parolees, foreclosures and neighborhood changes, autistic children and their families, effects of stress on health, and coping with traumatic life events. View Videos...

Jenness Named the Social Ecology Dean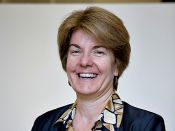 Professor Valerie Jenness is the new dean of the School of Social Ecology, effective September 1st. Professor Jenness served as the School's interim dean beginning in July 1, 2009, having first come to UCI in 1997 as Assistant Professor in the Department of Criminology, Law and Society. She served as director of the graduate program for three years, and later chaired the department from 2001-2006. Learn More...

New Master of Public Policy Degree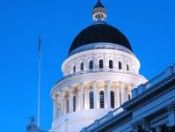 UC Irvine is proud to announce a new two-year Master of Public Policy (MPP) professional degree program offered jointly by the School of Social Ecology and School Social Sciences. The inaugural MPP cohort and many students thereafter will be part of something special: the first new public policy program in Southern California in decades and one uniquely situated to address diversity of policy challenges, ranging from local to international issues. Learn More...

Stressing the Positive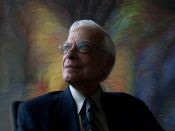 Salvatore R. Maddi, Professor of Psychology and Social Behavior, has changed the way many view stress. Not only is it an unavoidable part of life, he argues, it can be good for us - as an agent of personal growth. Professor Maddi says "You need to accept that life is stressful and do the hard work to turn stress into an advantage." Learn More...

Faculty and Student Accolades


Roxane Cohen Silver, Professor of Psychology and Social Behavior, has been awarded the 2010 Public Advocacy Award from the International Society for Traumatic Stress Studies (ISTSS), which is given for outstanding and fundamental contributions to advancing social understanding of trauma.


Candice Odgers, Assistant Professor of Psychology and Social Behavior, received the 2010 Distinguished Assistant Professor Award for Research. Professor Odgers will be presented with the award at an Academic Senate Distinguished Award Event this December.


Lori Sexton, graduate student in the Department of Criminology, Law and Society, has been selected to receive the UCI Fletcher Jones Foundation Fellowship for the 2010-2011 academic year. At UCI, one graduate fellow is selected annually based on past accomplishments, enthusiasm for excellence, vitality, ingenuity and leadership potential.

View More Faculty and Student Accolades
Recent Events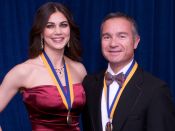 A Celebration of Stars:
This year's UCI Medal event, held on October 2, 2010, honored two of Social Ecology's Leadership Council members, Salma (B.S. Bio '99, B.A. SocEco '09) and Hazem Chehabi, M.D., for their transforming philanthropic contributions to UCI. The event raised $1,000,000 in support of scholarships and fellowships. Learn More...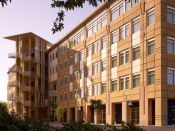 Open House:
On October 26, 2010, over 200 campus and community members gathered to celebrate the new Social and Behavioral Sciences Gateway building. Completed in fall 2009, this 78,000 square foot building houses segments of both the School of Social Ecology and School of Social Sciences. View Photos...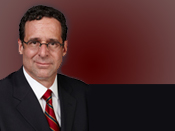 Megapolitan America:
Robert E. Lang, Professor and Director of the Brookings Mountain West Initiative at the University of Nevada, Las Vegas, was the featured speaker on October 26, 2010, at UC Irvine. Sponsored by the School of Social Ecology's Metropolitan Futures Initiative, Professor Lang's presentation explored the relationship between metropolitan form, scale, and connectivity.
Learn More...


Preserving the Environment of the Arctic Region:
On November 12, 2010, The School of Social Ecology and the Newkirk Center for Science and Society partnered with other campus affiliates to host a day-long symposium focusing on the Arctic. This was the seventh conference in the "Toward a Sustainable 21st Century" series. Learn More...


Global Research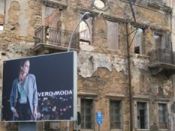 Scott Bollens, Professor of Planning, Policy, and Design and the Warmington Chair in Peace and International Cooperation, recently conducted interview-focused research in the divided city of Beirut, Lebanon. This is the ninth international case study of urbanism and city conflict that he has carried out over the past 17 years. "Political sectarianism penetrates the city", says Professor Bollens, "and is fully capable of mobilizing local residents toward violence should it be necessary". Tanks, soldiers, barbed wire, checkpoints, and sandbag barricades are everyday facts of life, twenty years after the end of the Lebanese Civil War. Of all the troubled places he has researched, Professor Bollens concludes that Beirut may be the one most susceptible to political collapse and reversion to violence. Photo -- War Beirut meets global Beirut
Remembering Professor Ericson

Recently, the UC Irvine Academic Senate honored Professor Jonathon E. Ericson by adopting a memorial resolution. Professor Ericson was a founding faculty member in the department of Environmental Analysis and Design in the School of Social Ecology. Learn More...