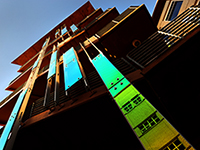 October 2013
Valerie Jenness, Dean of the School of Social Ecology, recently published an article in the Orange County Register to answer a question she often is asked by the community and prospective students - "What is Social Ecology?" Read below or download the article to better understand how the School is a unique feature of the University of California.

---
Relating People to Their Environment
As the Dean of the School of Social Ecology, I'm often asked, "What is social ecology?" It's a fair question because we are a unique feature of the University of California, as we were when the school was established more than 40 years ago. For some, the words don't seem to go together: we borrow from the German word okologie, but even then ecology is really a word belonging to biology. There, it describes the study of relationships between organisms and their environment. So where's the social? A quick, simple definition is that social ecology is the study of the relationship between people and their environment, often the interdependence of people, collectives, and institutions. But the school is more than that. Much more. It's a compelling idea accompanied by a set of research, teaching, and service commitments that, when put into practice, leave a unique signature on the university and the many diverse communities we serve.
Our mission is to conduct research and teach students how to analyze questions and issues from a broad, ecological perspective that integrates multiple disciplines and links basic theory and scientific findings with real-world community problem-solving. Put more clearly, we do research to discover things about our world, we engage with our social world to learn and to apply knowledge, and we transform our world through our interdisciplinary research and education. To quote the School of Social Ecology mantra, we discover, engage, transform. The activities sponsored by the school and sustained by the faculty, students, and staff reflect this commitment.
The school has marshaled its interdisciplinary expertise to focus on everything from global environmental degradation to poverty and other forms of inequality, to prison overcrowding and gang violence in California, to healthy child development and the many challenges faced by an aging population, to health risks and community empowerment. These efforts have made the School of Social Ecology a national leader in applying basic theory and empirical research to a range of complex societal problems. Day in and day out, we examine the issues discussed on the local news or world stage. Whether it's the effects of global warming on groundwater, the transfer of inmates from state-run prisons to local county jails, the negative health effects from a lifetime of inequalities, or decisions to build or not-to-build based on anticipated transportation or environmental impacts, social ecology faculty and students are on it.
I almost titled this column "From Sierra Leone to the U.S. Supreme Court to sex offenders in California to the Great Park in Irvine to the smiles on our faces." This short list reveals just some of the interesting work being done by our faculty and students in our three nationally ranked departments – Criminology, Law and Society (CLS); Planning, Policy, and Design (PPD); and Psychology and Social Behavior (PSB). Professor Jodi Quas, PSB, and Professor Richard Mathew, PPD, collaborated to secure a "Visionary Research Grant" from the American Psychological Foundation to study the effects of exposure to socio-political and ethnic violence in Sierra Leone on children's development, especially children's capacity to develop care for one another and reduce the risk of recurring violence. Professor Beth Cauffman, PSB, and Professor Simon Cole, CLS, filed friend of the court briefs with the U.S. Supreme Court on the constitutionality of executing youth and on the use of fingerprint evidence in criminal trials, respectively. Professor Susan Turner, CLS, who is also the Director of our Center for Evidence Based Corrections, recently completed evaluation research on the use of GPS for high risk sex offender parolees in San Diego County. Professor John Hipp, CLS, and Professors Victoria Basolo and Jae-Hong Kim, PPD, continue to track and examine the changing demographic, economic, and public safety trends that are part of our Metropolitan Futures Initiative, now with a special focus on the potential impacts of Irvine's Orange County Great Park development. And one of our newest faculty members, Professor Sarah Pressman, a health psychologist in PSB, does work that reveals the health benefits of something as simple as a smile. These are just a few projects that came across my desk this week.
In the School of Social Ecology, we live and breathe community engagement. We take pride in the fact that research and teaching in Social Ecology is as relevant as it is broad. The outcome of our work, in published research, expert testimony, and community engagement, has discernible impact on local, national and international opinion. In many cases it initiates transformative interventions and positive change. Perhaps the hallmark of this commitment is our Field Study Program – a requirement for all our undergraduate students to complete at least 100 hours serving one of more than 200 approved community agencies and organizations. This experience extends education beyond the classroom in ways that can be life-changing for students and result in significant contributions to our community. The service to the community by bright, energetic and talented young people can be measured in hours (600 students x 100 hours each per year) or through the positive feedback that we get from our community partners, including THINK Together, the Legal Aid Society of Orange County, and Human Options. In the end, the contributions are countless and their lasting positive impact immeasurable.
Of course much more could be said about the School of Social Ecology—our purpose, our people, and our practices—but perhaps a well-known state politician and a member of my leadership council summed it up best. The Honorable Marian Bergeson, former state senator and secretary of education in California, said, "Social ecology is working on things that matter." Gary Fudge, a member of the Social Ecology Dean's Leadership Council and sponsor of Fudge Family Scholarships for our high-need students, explained it this way: "You should be called 'The School of Interesting Stuff.'" I couldn't agree more. The UC Irvine School of Social Ecology is a unique feature of the University of California, one that has served more than 20,000 alumni, left a considerable imprint on the health and well-being of our communities, and made good on the promise of a land-grant university. I invite you to visit our web site (http://socialecology.uci.edu/) and attend one of our many public events where we share the results of our study of "interesting stuff."
Dean Valerie Jenness has led the School of Social Ecology since 2009. A professor of criminology, law and society, she has spent much of her academic life researching prison violence, hate crimes and the rights of sex workers, to name a few.

FACTS: School of Social Ecology
60 faculty
2,285 Undergraduate students
296 graduate students
48 administrative and research staff
20,000+ alumni
3 Departments:

Criminology, Law and Society
Planning, Policy, and Design
Psychology and Social Behavior

6 Centers:

Center for Evidence-Based Corrections
Center in Law, Society, and Culture
Center for Psychology and Law
Center for Unconventional Security Affairs
Community Outreach Partnership Center
The Newkirk Center for Science and Society