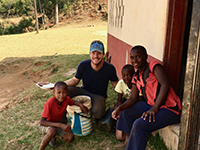 November 2016

Food sovereignty initiative in Swaziland
Swaziland is a small kingdom in Subsaharan Africa that has been ravaged by HIV, stagnant economic growth, and increasing climate uncertainty. After completing preliminary fieldwork in Swaziland under the guidance of Professors Jodi Quas and Richard Matthew and observing what a powerful role malnutrition was playing in limiting health and development, Social Ecology doctoral student Connor Harron launched The Swaziland Food Sovereignty Initiative (SFSI) in 2014 to help address malnutrition and provide youth with the skills needed to become agricultural entrepreneurs and help rebuild local food systems.
Harron developed SFSI with teachers from the Edudusi Primary School in Northern Swaziland, to help support young learners with supplemental nutrition and garden-based experiential learning to provide them with the technical skills needed to grow abundant food without depleting precious natural resources. This past August, Harron had the opportunity to return to Swaziland with nearly $6,000 raised from a combination of crowd funding, as well as the generous support of the UCI Blum Center for Poverty Alleviation and Paul and Francis Dickman through their Graduate Student Award for Community Engagement. These funds were used to invest in crucial infrastructure repairs on the primary school, install water storage tanks and garden fencing, purchase new classroom furniture and supplies, and create a school savings account for future repairs. While there, Harron launched a garden based education program that has the potential to make a meaningful impact on both student's immediate health and long term well-being.
Over the next two years, Harron will continue to work with the primary school to ensure the program continues in his absence. If Harron can demonstrate the program's impact and long-term viability, he will make a case to local government and funding agencies to replicate it in primary schools across Swaziland.