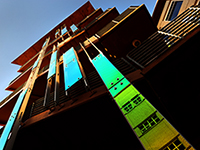 February 2016
UCI is launching a new online Masters of Legal and Forensic Psychology program to begin Fall 2016. This program will focus on the intersection of psychology and legal issues, with a greater emphasis on the use of psychological principles, theories, and research to better understand legal processes and systems. Please visit our website for additional information.

The goal of this degree program is to prepare practitioners for career advancement in legal and related fields, thus the program seeks applicants from a wide variety of educational backgrounds and work experiences. Individuals who meet the following requirements are encouraged to apply:
Demonstrated passion for learning and helping to solve social problems
Interest in multi-disciplinary studies
Self-motivated and able to work collaboratively with others
Completed Bachelor's degree from an accredited college or university
Can provide transcripts that show a minimum grade point average of 3.0
Experience in a related field is encouraged, but not required
Admissions for the Fall 2016 Cohort will be provided on a rolling basis beginning February 15, 2015. Learn how you can apply!

Please contact our office at mlfp@uci.edu with any questions.