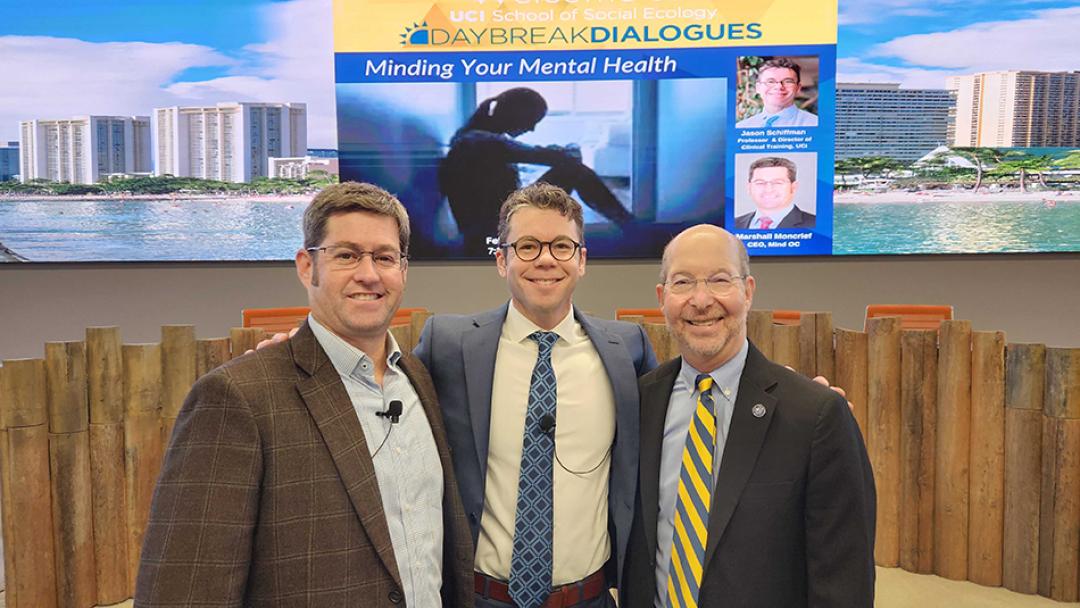 Marshall Moncrief, CEO of the nonprofit Mind OC, left, Professor Jason Schiffman, center, and Dean Jon Gould talked about Orange County's mental health crisis at today's Daybreak Dialogues. Photo by Han Parker
---
Event shines light on joint UCI-community effort to solve the mental health crisis
More than 60 people left The Cove at UCI Beall Applied Innovation this morning feeling better about the direction mental health care is going in Orange County, thanks to an informative presentation by an alum and a faculty member of the School of Social Ecology.
"Minding Your Mental Health: Innovative resources for OC's mental health crisis" was the latest Daybreak Dialogues breakfast lecture, sponsored by ChangeMakers, Social Ecology's premier support group, whose contributions are vital for the students and faculty who generate implementable solutions that help make our world a better place.
Jason Schiffman, professor, clinical psychologist, and director of clinical training and the PREVENT Lab in the university's Department of Psychological Science, and Marshall Moncrief, CEO of the nonprofit Mind OC and Be Well OC — as well as the first Social Ecology alum to be a Daybreak Dialogues speaker — were naturals for the event's topic.
"They are both leaders in this area," Social Ecology Dean Jon Gould said while introducing the pair. "They are both committed to addressing the mental health crisis. And, they both help to lead institutions that have as their mission addressing and helping all folks, especially children, with these problems."
Shaking Moncrief's hand and giving him a quick embrace, Schiffman joked they have moved beyond being friends and colleagues addressing mental health in Orange County to becoming "brothers from another mother."
"We have a unified goal of helping the state of mental health for young people in our community," Schiffman said, "and one of the things that I was thinking about when we were invited to speak here — and just looking out at the audience — is that although we have some background and some expertise and are trying to do things that make a difference, any one of you in the audience could be up here leading this conversation, because all of us are impacted by mental health."
Though Orange County is the sixth largest U.S. county, there is a unique sense of intimacy here that allows the community to address mental health challenges in a robust, accountable way, according to Moncrief. "We're small enough to manage, but we're big enough to matter," he said.
That is coming in handy as mental health challenges have been mounting, particularly among young people because of the COVID-19 pandemic. But, access to care has been hampered by "the silo effect." Well-meaning mental health practitioners, other healthcare providers, law enforcement, the faith community and primary/secondary/postsecondary education have been so busy dealing with the ill independently that solutions have eluded them.
"A silver lining" to the global pandemic was mental health being pushed to the forefront of community challenges, forcing cops, health insurers, care providers, school officials and politicians to stop pointing fingers at one another for exasperating the problem and instead locking arms for a common cause. "Out of desperation" Mind OC became the hub for these disparate entities, Moncrief noted.
There is now hope that Orange County can not only solve the social problem but serve as "a replicable model for other communities in the state," according to Moncrief, who added UCI Police is working with Mind OC to create "a campus of care" where compassion is a first response and mental health and substance abuse services are available regardless of one's insurance status.
Schiffman also is excited about incorporating treatment innovations created at UCI, including a first-of-its-kind clinical training program that is preparing the next generation of mental health leaders.
"Our program will lead the search for new knowledge and assessment, understanding, prevention and treatment for psychological disorders and mental health concerns from an inclusive perspective that is psychologically, ecologically, socially, and biologically informed," he said. "In this service, we will train clinical site scientists to produce, implement, evaluate, and disseminate psychological science and to function as leaders in academic research and applied settings to improve the human condition from an inclusive lens."
"One of the great opportunities I have as dean is being able to interact with folks like this and to see the work they do," Gould said in his closing remarks. "It is with great pride that the School of Social Ecology has alumni like Marshall and faculty like Jason and the students we have here. I hope that all of you who came here today will remain partners with us in trying to address these problems. We are committed to not just studying social problems, we are also here to help solve them. And, we are here to solve them in partnership with such wonderful people as Marshall and Jason."
— Matt Coker