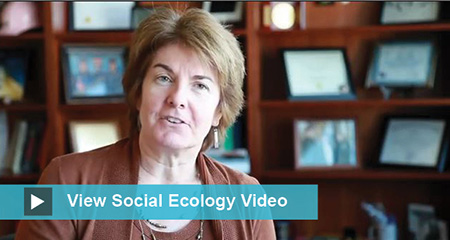 Welcome to the School of Social Ecology at the University of California, Irvine. For over 40 years, the School has been an internationally recognized pioneer in developing interdisciplinary approaches to social problems.
Faculty in the three highly ranked departments—the Department of Criminology, Law and Society; Department of Planning, Policy, and Design; and the Department of Psychology and Social Behavior—pursue the production and dissemination of knowledge in the service of fostering informed social action. The faculty and students alike engage in research and education to make the world a better place!
Our mission is to conduct research and teach students how to analyze questions and issues from a broad, ecological perspective that integrates multiple disciplines and links basic theory and scientific findings with real-world community problem-solving. Put more clearly, we do research to discover things about our world, we engage with our world to learn and apply knowledge, and we transform our world through interdisciplinary research and education.
The School has marshaled its interdisciplinary expertise to focus on everything from global environmental degradation to poverty and other forms of inequality, to prison overcrowding and gang violence in California, to healthy child development and challenges faced by an aging population, to health risks and community empowerment. These efforts have made the School of Social Ecology a national leader in applying basic theory and empirical research to a range of complex societal problems. We examine the issues discussed on the local news or world stage. Whether it's the effects of global warming on groundwater, the transfer of inmates from state-run prisons to local county jails, or the negative health effects from a lifetime of inequalities, Social Ecology faculty and students are making a difference.
In the School of Social Ecology, we live and breathe community engagement. We take pride in the fact that research and teaching in Social Ecology is relevant and broad. The outcome of our work, in published research, expert testimony, and community engagement, has discernible impact on local, national and international opinion. In many cases it initiates transformative interventions and positive change. Perhaps the hallmark of this commitment is our Field Study Program – a requirement for all our undergraduate students to complete at least 100 hours serving in one of more than 200 approved community agencies and organizations. This experience extends education beyond the classroom in ways that can be life-changing for students and result in significant contributions to our community.
The School of Social Ecology lives by the motto: Discover • Engage • Transform
I invite you to explore our website and learn more about the research, teaching and community outreach our faculty and students are engaged in.
Sincerely,
Valerie Jenness
Dean and Professor
School of Social Ecology


Learn More: