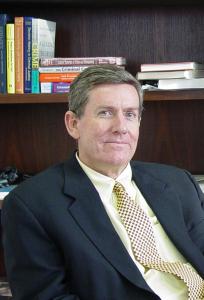 Professor of Criminology, Law & Society
Ph.D., University at Albany, State University of New York
Specializations:
criminology, theory, crime and policy
Prior to joining the University of California, Professor Gottfreson was Vice President for Undergraduate Education and Professor of Management and Policy, Law, Sociology, and Psychology at the University of Arizona. In 1999, he served as Interim Senior Vice President for Academic Affairs and Provost.He joined the University of Arizona in 1985, after teaching at the Claremont Graduate School, the University of Illinois at Urbana, and the State University of New York at Albany.He received his A.B. from the University of California at Davis and the Ph.D. from the State University of New York at Albany.
Professor Gottfredson's research and teaching specialties are theories of crime and delinquency and the criminal justice system. He has published numerous books and articles in the professional literature about the causes of crime and crime policy. He has frequently consulted with state, county and federal governments concerning criminal justice policy.Dr. Gottfredson has served as the Director of the Criminal Justice Research Center, a private not-for-profit corporation in New York, and on the board of directors for The Parent Connection, the Crime and Justice Research Center, and Orange County United Way.
He is a Fellow of the American Society of Criminology and in 1996 was selected as the Andersen Consulting Professor of the Year in the College of Business and Public Administration. He served on the Arizona Governor's Juvenile Justice Commission and was a member of the Arizona Town Hall. At the University of Arizona he was the recipient of the Martin Luther King, Jr. "Distinguished Leadership Award", the Association of Women Faculty "Outstanding Support of Equity Award" and the College of Fine Arts "Bravissimo Award." In 2001 he was given the Paul Tappan Award by the Western Society of Criminology for "outstanding contributions to criminology" and in 2003 the Richard McGee Award by the American Justice Institute for "outstanding contributions to crime and delinquency theory."
Selected Publications
Control Theories of Crime and Delinquency. Edited (with Chester Britt) 2003. New Brunswick: Transaction Books.
The Generality of Deviance. Edited (with Travis Hirschi) 1994. New Brunswick, New Jersey. Rutgers, The state University of New Jersey: Transaction Books. 277pp.
Personal Liberty and Community Safety: Pretrial Release in the Criminal Courts. (with John Goldkamp, Peter Jones and Doris Weiland) 1995. New York: Plenum. 342pp.
A General Theory of Crime. (with Travis Hirschi) 1990. Stanford California: Stanford University Press. 297pp. Japanese edition 1997. Bunkendo.
Decision-making in Criminal Justice: Toward the Rational Exercise of Discretion. (with Don Gottfredson) 1988. New York: Plenum.
Policy Guidelines for Bail: An Experiment in Court Reform. (with John Goldkamp) 1985. Philadelphia: Temple University Press.
Victims of Personal Crime: An Empirical Foundation for a Theory of Personal Victimization. (with Michael Hindelang and James Garofalo) 1978. Cambridge, Mass.: Ballinger Press. 324pp.
"Self-Control Theory", (with Travis Hirschi). 2001. In R. Patenoster, Editor. Explaining Crime and Criminals. Roxbury.
"In Defense of Self-Control", (with Travis Hirschi). Theoretical Criminology, 2001.
"Control Theory and the Life-Course Perspective." (with Travis Hirschi). Studies on Crime and Crime Prevention. 1995. 4:2:131-142.
"National Crime Policy." (with Travis Hirschi). Society. 1995. 32:2:30-36.
"The Use of Prisons as a Commons Problem: An Exploratory Study," (with Michael Polakowski). Journal of Research and Crime and Delinquency 3(1)70-93, Feb. 1996.
"Determinants and Prevention of Criminal Behavior." (with Michael Polakowski). 1995. in Neil Brewer, ed. Psychology for Policing. New York: Erlbaum.