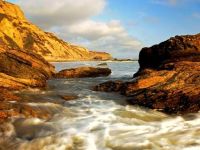 Details: 
You are invited to a conference, which will bring together community leaders and research experts in law, science and public policy, to discuss the preservation of the California coast.
The program will focus on different perspectives on preserving the rich California marine environment, including an understanding of the underlying science behind conservation initiatives, approaches to laws aimed at protecting and enhancing the environment, and policy interventions that have been attempted in the past and should be considered in the future. Part of the conference will focus specifically on case studies from the Orange County coast. For a preview of this portion of the program, view this video.
This conference is part of the Toward a Sustainable 21st Century Series, which is an initiative of a private foundation and the University of California, Irvine, who together can do more than they can do separately on significant unsolved problems of global society.
This program is open to the public and free of charge. Please RSVP. Attendance at individual sessions is welcome. The program will include lunch and a closing reception.
Learn more about the program: 
Date: 
Friday, March 4, 2011
Time:
9 a.m. - 5 p.m.
Location:
Beckman Center of the National Academies of Sciences and Engineering (near UC Irvine)
Parking and Directions
RSVP:
The event is open to the public and free of charge, but reservations are encouraged due to seating limitations. Please RSVP by contacting the Newkirk Center at newkirk@uci.edu or by calling (949) 824-3119.
Information:
Sponsored by:
The Newkirk Center for Science and Society
UCI School of Law
UCI Program in Public Health
School of Social Ecology