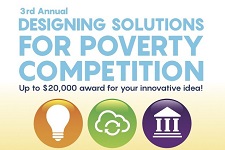 Designing solutions for poverty pitch event and reception
What: Finalists of the 3rd annual Designing Solutions for Poverty competition will present innovative business ideas to tackle poverty in California and abroad. Business leaders and mentors are welcome to attend.
When: Thursday, May 4, 2017 at 5:30 p.m.
Where: Porter Colloquia Room and Terrace at the Paul Merage School of Business
RSVP to ekern@uci.edu by May 1.
The details:
The next generation of young entrepreneurs are not interested solely in the bottom line. They also want to make the world a better place.
Nine finalists from University of California Irvine and the wider Orange County community will compete on May 1, 2017 to win a $20,000 grant, in addition to mentoring and support from some of the country's best entrepreneurial minds. Their goal? To generate an idea or invention and guide it into a sustainable business that will make a real difference to alleviate poverty.
On May 1, the nine groups will present their projects to a panel of distinguished OC judges, including Preet Virk of Macom, Amanda Grant of the Living Peace Foundation, and Jay Connor of Learning Ovations.
The finalists are incredibly varied: a digital service providing free, low cost legal advice; a science app for teachers; a hands-free, leg-powered wheelchair; an affordable, point-of-care treatment for foot ulcers; and a soccer program teaching life lessons.
The top three chosen will go on to a special awards function at UCI on May 4 where they will make another presentation to an audience that will include business leaders.
"Orange County is a hub of entrepreneurial creativity," said Professor Richard A. Matthew, Director of the UCI Blum Center. "Our aim is for this competition to show that you can create a successful for-profit company - and do good for the world at the same time."
The 3rd annual Designing Solutions for Poverty competition has doubled the prize for the winning entry to up to $20,000. In addition, the winning team or individual may be mentored through UCI Applied Innovation and the ANTrepreneur Center.
• The nine finalists will present their projects to judges on Monday, May 1, from 12-5 p.m.
• The Finalist Presentations and Reception will be on Thursday, May 4 from 5.30pm to 7.30 p.m. at the Porter Colloquia Room and Terrace at The Paul Merage School of Business.
The event is hosted by the UCI Blum Center for Poverty Alleviation.